The US Navy said on Wednesday (5 April) that it has temporarily grounded the T-45 Goshawk trainer jet fleet following frequent complaints of oxygen system malfunction.
The decision was taken following a recent visit by navy officials to the T-45 bases in Kingsville in Texas, Pensacola in Florida, and Meridian in Mississippi state, where the T-45 instructors were refusing to conduct training flights over concerns about oxygen system safety for the pilots, according to US military publication Stars and Stripes.
Fox News, which first highlighted the issue, wrote that instructors found increasing complaints about oxygen system malfunction in the recent past and had boycotted the jets since late last week.
Some instructors told the news channel that on several occasions, they had to pull out the trainee pilots from the cockpit or instructors had to make emergency landing after falling ill due to either lack of oxygen or oxygen poisoning.
According to the news channel, Vice President Mike Pence's son Michael – a Marine 1st Lieutenant – is also among the hundreds of student pilots affected by the malfunctioning training jets.
Commander Jeannie Groeneveld, a spokeswoman for Naval Air Forces, said that the T-45s have been the Navy and Marine Corps' primary trainer jets. She added that the grounding will affect 197 aircraft.
She said that the chief of naval air training "immediately requested the engineering experts ... who are working to correct this problem".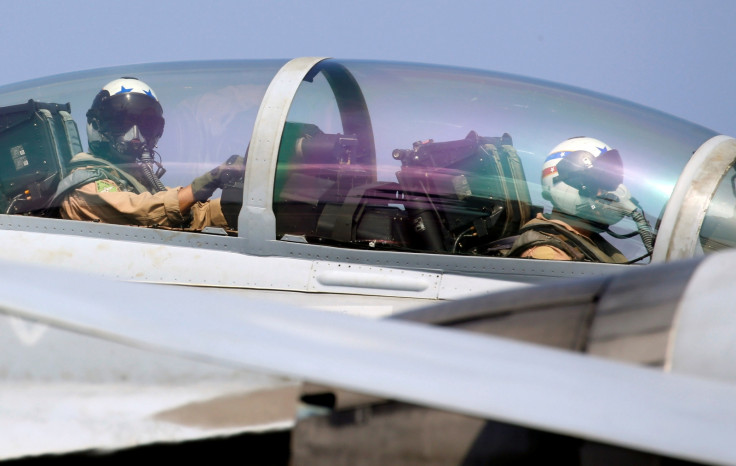 Navy engineers visited training wings at Naval Air State Kingsville on Monday (3 April) and training wings at Naval Air Station Meridian and Naval Air Station Pensacola on Tuesday. Instructors told them that the oxygen breathing system for pilots in the T-45 jets either malfunctioned or the system was releasing contaminated oxygen.
"Last Friday, we had roughly 40% of our flights cancelled in the T-45 training commands in Meridian, Pensacola and Kingsville because of operational risk management concerns voiced by the instructor pilots," Groeneveld said.
In an email to Fox News, the spokeswoman confirmed the grounding decision and said: "We take the concerns of our aircrew seriously and have directed a ... safety pause for the T-45 community to allow time for Naval Aviation leadership to engage with the pilots, hear their concerns and discuss the risk mitigations as well as the efforts that are ongoing to correct this issue."