The US Navy has said that 10 sailors, captured by the Iranian navy in January this year revealed key information, including names, ranks and passwords to their captors. A report, released on Thursday 30 June, said that weak leadership, poor judgement and a lack of "warfighting toughness" led to the international incident in the Gulf.
Captured on 12 January by Iran's Islamic Revolutionary Guard Corps, the sailors were said to have improperly provided their name, serial numbers, passwords for laptops and mobile phones and even technical details about their two ships, including their top speed, capabilities and missions.
"It is clear that some, if not all, crew members provided at least some information to interrogators beyond name, rank, service number and date of birth," the report said.
They were apprehended after the engine of their boat died and they strayed into Iranian territorial waters as they sailed from Kuwait to Bahrain, home of the US Fifth Fleet, but were quickly released. The incident caused a political crisis days before the controversial Iran nuclear deal was about to be signed.
Problems were said to have plagued the mission, with the crews' task force ordering a 250-nautical-mile transit, the longest the crews had attempted, whilst "severely underestimated" the transit's risks.
The crew were said to have deviating from their route without permission and failed to report the engine failure that led to their apprehension.
"Crewmembers lacked navigational awareness, proper communication with higher authority, and appreciation of the threat environment throughout the transit," the report said.
Following the incident six officers and three sailors were disciplined, or face action, and also within the report it claimed Iran violated international law by impeding the vessels' "innocent passage".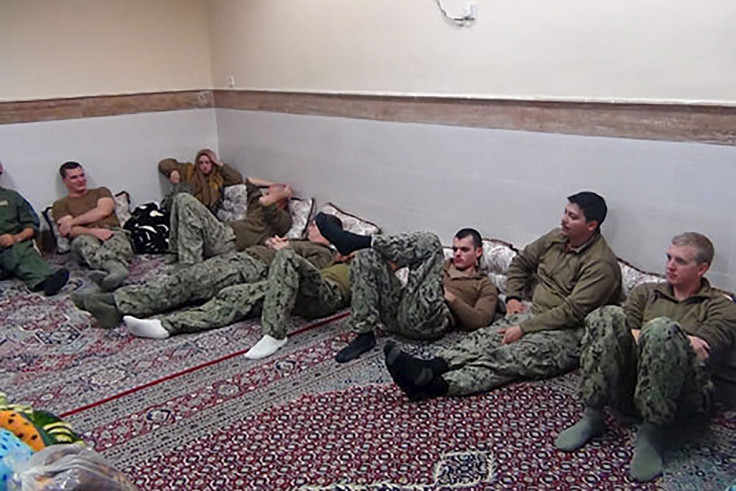 When they were detained they were close to Iran's Farsi Island which serves as an Iranian speedboat base, but possibly in Saudi territory. In the 15 hours they were captive one sailor was said to have made "statements adverse to US interests".
Despite none of the captives being hurt some of their Iranian interrogators "employed intimidation tactics such as slapping the table, spinning the captive's chair, or threatening to move them to the Iranian mainland", according to the report.
The US Navy claim they "had every right" to be where they were in the sea and that Iran had "violated international law as well as US sovereign immunity" by boarding and capturing them.