US Open 2017: Juan Martin Del Potro stuns Roger Federer to set up Rafael Nadal semi-final clash
KEY POINTS
Del Potro defeated Federer in four sets to reach the US Open semi-final.
The Argentine stopped a potential first-ever meeting between Federer and Nadal in New York.
Juan Martin Del Potro believes he played his best match of the US Open following his upset quarter-final win over Roger Federer on Wednesday night (6 September).
Playing on the back of a stunning two-set down comeback win against Dominic Thiem in the fourth round, Del Potro stunned Federer to win 7-5, 3-6, 7-6, 6-4 in a contest that lasted nearly three hours.
The 28-year-old notably won his only Grand Slam when he defeated the Swiss ace in the US Open final in 2009 and inflicted defeat once again in Flushing Meadows.
"I played my best match of the tournament," Del Potro said following the win. "I served well and hit my forehand as hard as I can. We played a great match and I think I deserved to win in the end."
"I think it's my home court. You make me so happy every time I play here. I love to see the crowd chanting for me.
"I can't believe I will play in the semi-finals against after all my injuries, after all my surgeries. Especially to play here in New York, my favourite tournament."
Federer fought back from a set down to win the second set, however, he did not look comfortable at all in the following sets, being hesitant and making many uncharacteristic errors.
With his first two matches in the US Open being five-set wins, there were concerns over the 36-year-old's back problems, leading up to the final Grand Slam of the year.
However, the 19-time Grand Slam winner did not think he played badly against Del Potro.
"It's hard to explain, I didn't play that badly," Federer reacted. "I just ran into a guy who was better on the bigger points. I don't deserve to still be in the tournament."
"Of course it is a pity, but Juan Martin deserves it more," he added. "I feel I have no place in the semis and he will have a better chance to beat Rafa, to be honest."
"The way I played or playing right now, it's not good enough in my opinion to win this tournament. It's better I'm out and somebody else gets a chance to do better than me."
Del Potro's win means he will now face world number one Rafael Nadal in the semi-final, having put an end to a potential first-ever meeting between the two in the US Open, which was one of the main narratives of the event.
Nadal defeated Russia's Andrey Rublev in a dominating win to reach the semi-final and will be wary about the prospect of facing the world number 28.
Despite the Spaniard leading 8-5 in their head-to-head record, Del Potro has won their last two meetings and will be on a high following his last two wins.
Meanwhile, Federer's chances of ending the year as world number one took a blow as well. With his exit, he is now over 600 points behind Nadal. The gap would only widen if his long-time rival goes on to win the event.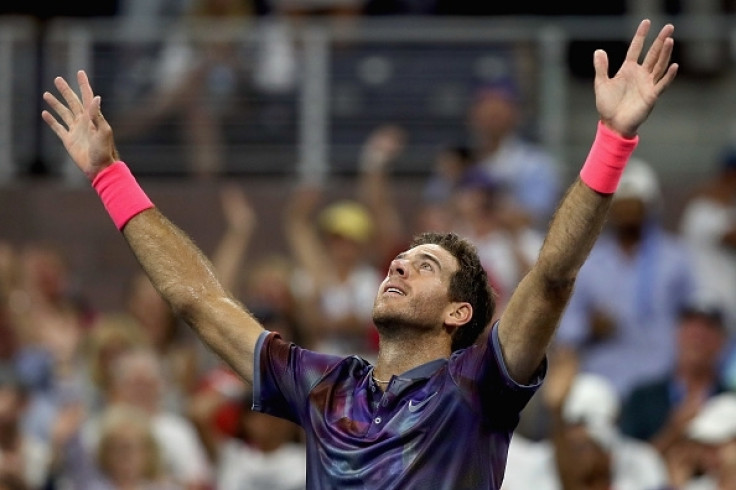 © Copyright IBTimes 2023. All rights reserved.