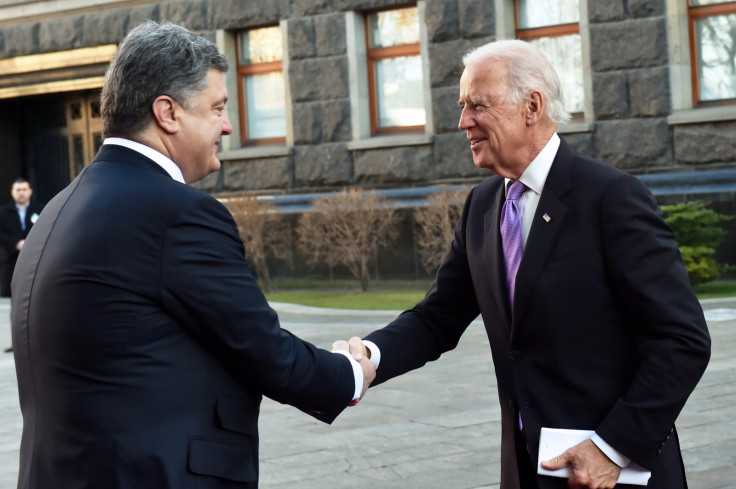 The US government is to extend $1bn (£672m) worth of loan guarantees to Ukraine, as the country's economy reels from a year of political upheaval and gruelling conflict in the east.
US Vice President Joe Biden informed Ukrainian President Petro Poroshenko in a phone call that the US would also provide a further $17.7m in aid to Ukraine, to be used for humanitarian assistance including food, water and shelter.
Critics however have argued that international support to Ukraine will be wasted unless urgent efforts are undertaken to tackle the country's corruption.
At the meeting, Biden and Poroshenko announced measures to curb corruption.
"The vice president welcomed the appointment of a new head of the anti-corruption bureau and encouraged the further implementation of rule of law reforms, including anti-trust measures and judicial reform," the White House added.
The announcement comes days after paratroopers from the US 173rd Airborne Brigade arrived in Yaroviv, west Ukraine on a six month training mission with Ukrainian volunteers.
Since the Maidan revolution last year, the Ukrainian economy has reeled, with the hryvnia having lost about 70% of its value in 12 months.
The country's Finance Minister Natalie Jaresko warned in March that the country faced a "serious, serious financial crisis", after the country's GDP shrunk by 7% in 2014.
Last week, the EU approved a new €1.8bn bailout package for Ukraine, with the first €600m instalment to be paid over summer.
Poroshenko is using a tenuous February ceasefire agreement with Russia to reign in the country's oligarchs, with the Ukrainian Parliament adopting measures to open the country's oil and gas industries to competition, and encourage transparency.