Cash-strapped Greece's hopes for a period of grace for loans it is due to repay in May 2015 have been torpedoed by Christine Lagarde, the head of the International Monetary Fund (IMF). She said precedents were "not followed by very productive results".
Greek bond yields soared on Thursday 16 April after the Financial Times revealed the news of the IMF's stance. Returns on the July 2017 bond rose 202 basis points to 26.2%, the highest since the country's restructuring. Its 10-year bond yields climbed 70 basis points to 12.4%.
Greece is due to pay €747m (£540m, $804m) to the IMF by 12 May, but there are fears that Athens might default.
Speaking at the IMF's spring meetings in Washington, Ms Lagarde said that that she had explained the fund's policy of refusing requests for a delay to Yanis Varoufakis, the Greek finance minister, after Athens made an informal approach this month for more time to pay. Mr Varoufakis has denied that he made such a request.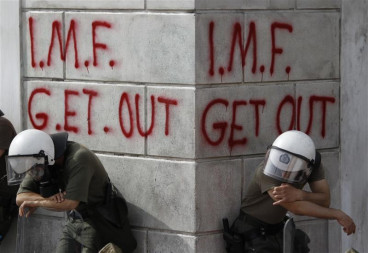 Ms Lagarde said her advice was for Athens to take on the "tedious" technical work of designing reforms to the Greek economy and a credible implementation plan rather than hope for a grand political bargain that would unlock €7.2bn of remaining loans from creditors.
Stability in the Greek economy, she said, "is not done by a political last-minute accord, it's done by looking at measures, committing to reforms, measuring what the outcome will be.
"Payment delays have not been granted by the board of the IMF in 30 years," Ms Lagarde said at a press conference. "We have been able to express and explain the policy of the IMF in terms of payment delays and give the precedents and history of that to Mr Varofakis," she added.
Mr Varoufakis said, at a Brookings think-tank event in Washington on Thursday 16 April, that Greece was willing to give ground in its negotiations. However, according to the Financial Times, he added: "We are going to compromise, compromise, compromise without being compromised".
Signing on the bottom line of the existing memorandum would be easy but the "wrong thing to do," the finance minister argued, saying he wanted to expunge the country's image as a "bottomless pit". Greece was not willing to sign up to another version of "extending and pretending" on its debts.