After US President Donald Trump fired Acting Attorney General Sally Yates hours after she instructed lawyers at the Department of Justice not to defend an executive order temporarily banning refugees and people from seven Muslim-majority countries from entering America, politicians across the country have quickly reacted with support and dismay.
Senior Democrats condemned the move. House Minority Leader Nancy Pelosi released a statement attacking House Republicans and said that Trump had fired Yates to "get the answer he wants":
"Tonight, the Acting Attorney General was fired for upholding the Constitution of the United States. What the Trump Administration calls betrayal is an American with the courage to say that the law and the Constitution come first.
"President Trump's executive order violates the Constitution, dishonors our values, and weakens the security of the United States. National security experts are warning that the President's ban will make it harder, not easier to defeat terror.
"Earlier tonight, House Republicans blocked Democrats' emergency bill to rescind this dangerous and unconstitutional executive order. Now, President Trump has fired the Acting Attorney General to get the answer he wants. Republicans will have to decide whether they will be complicit in the President's reckless, wrathful and unconstitutional agenda."
Senate Minority Leader, Chuck Schumer called the action "chilling", saying in a tweet that "The [Attorney General] should pledge fidelity to the law & the Constitution not the WhiteHouse. The fact that this admin doesnt understand that is chilling."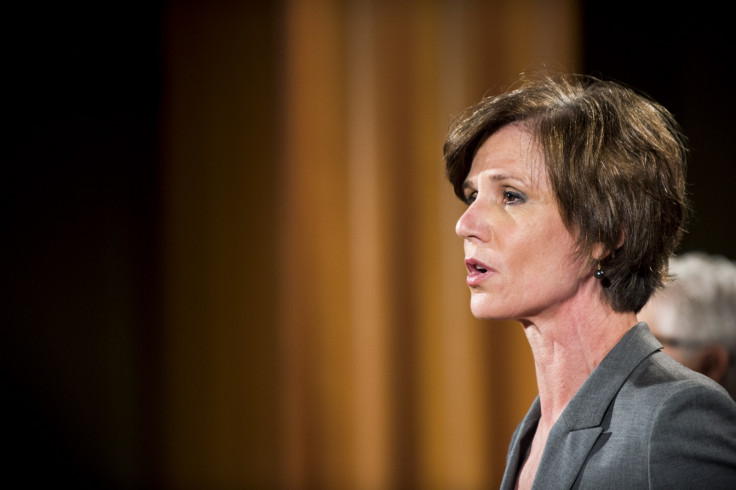 Yates was a holdover from the Obama administration. She would have kept the position until Trump's nominee for Attorney General, Jeff Sessions is confirmed by the Senate.
Top Republicans came to Trump's defence, with former Speaker of the House Next Gingrich referencing Trump's time as host of the TV show, The Apprentice when he was known for the catchphrase "you're fired".
Meanwhile, Senator Ted Cruz, formerly a rival for the Republican presidential nomination, praised Trump as "exactly right" and accusing Yates of "lawless partisanship".