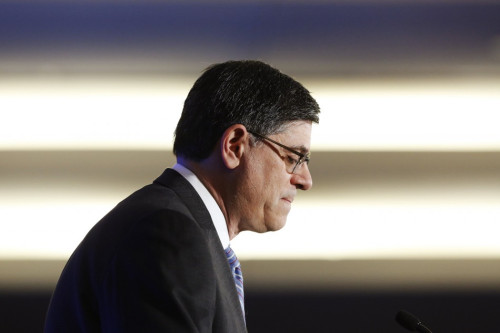 The US politicians are expected to restart their debate on raising the country's debt limit after a short interval.
US treasury secretary, Jack Lew, had earlier warned that the country would be unable to meet its debt obligations by the end of February in the absence of a hike in its borrowing limit.
Speaking at the Bipartisan Policy Center in Washington, Lew said the Treasury's borrowing capacity would expire "in just a matter of days", foring the treasury to use extraordinary measures to meet the government's obligations.
Nevertheless, such measures would not last long due to complex seasonal factors, he added.
"We now forecast that we are likely to exhaust these measures by the end of this month," he said.
"It is imperative that Congress move right away to increase our borrowing authority. It would be a mistake to wait until the 11th hour to get this done."
Political Impasse
The US Congress suspended the debt limit in October as part of last-minute deal to end a partial shutdown that forced hundreds of thousands of federal employees to go on unpaid leave as government offices were closed for more than two weeks.
The $16.7tn (£10.2tn, €12.4tn) debt limit will be reinstated on 7 February. Subsequently, the treasury will resort to accounting mechanisms to meet government obligations until the end of February.
However, it will have to use cash on hand to pay its debts soon after, and the tax refunds in the spring is likely to strain the country's cash reserves.
The White House is not likely to negotiate budget policy in exchange for raising the debt limit.
In 2011, the Republicans successfully demanded reductions in US government spending in return for agreeing to increase the debt limit. However, the party leaders are reluctant to do the same this time.
During the partial government shutdown in October, the Republicans threatened that they would not agree to a rise in the debt limit unless the Democrats agreed modify or eliminate President Barack Obama's pet healthcare programme.
The Obama administration in January avoided another federal shutdown for nine months, as a vast majority of US Senate members have voted in favour of a $1.1tn spending bill that is also expected to ease pains of the country's automatic budget cuts known as the sequester.