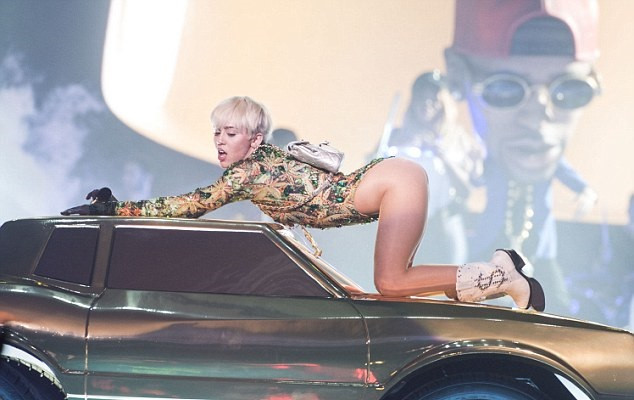 Miley Cyrus finds herself on the frontline of the battle between the US and Russia over Crimea.
A concert that the pop starlet is due to perform in Helsinki could fall foul of American sanctions that were passed in the wake of the Ukraine crisis.
The Finnish venue is due to host an array of American stars over the summer, including Justin Timberlake and Stevie Wonder but it's partly owned by Russians that have been subjected to sanctions by Washington.
Gennady Timchenko owns 50% of the holding company that owns Hartwell Arena, where the US stars are booked to perform. He's also one of the 27 Russians to be sanctioned by President Obama.
Timchenko wasn't targeted for his musical investments, rather he's the co-founder of the massive Russian oil firm Gunvor and has deep ties with President Vladimir Putin.
The other half of the company is split evenly between two more Russians on Washington's hit list, Arkady Rotenberg and Boris Rotenberg.
Washington imposed a raft of sanctions against a number of individuals with close ties to the Kremlin, as well as Bank Rossiya, in the wake of Russia's annexation of Crimea last month.
The region voted to become part of Russia in a referendum on March 16 which has been described by Western leaders as "illegal" and was rebuffed in a vote at the United Nations General Assembly.
The wording in the sanctions suggests that the concert promoter, US based Live Nation, will be unable to go ahead with any financial deals with the venue unless the US Treasury approves the transactions.
There is confusion over how strictly the sanctions will be enforced by the White House; international firms are yet to see them implemented.
Miley hasn't tweeted anything about the furore yet, and fans may be assured that tickets are still on sale for her show, as well as others scheduled for the summer.