As the 2016 Republican National Convention rolls on, the US Secret Service has launched an investigation into comments made by a Donald Trump adviser calling for Hillary Clinton's execution during an interview on the Jeff Kuhner show.
New Hampshire state representative Al Baldasaro, who serves as an informal veterans affairs adviser to Trump, said in a radio interview on Wednesday (20 June) that Clinton "should be put in the firing line and shot for treason" over her handling of the Benghazi attack in which four Americans were killed.
"The US Secret Service is aware of this matter and will conduct the appropriate investigation," said spokesman Shawn Holtzclaw.
The Secret Service is charged with protecting US federal officials and candidates. Agents also investigate death threats. Despite the uproar his "kill Clinton" remarks triggered, Baldasaro - who is also a Trump delegate at the Republican National Convention - was happy to expound on them in more comments to the Daily Beast.
"Anyone that commits treason should be shot," he emphasised. "I believe Hillary Clinton committed treason. She put people in danger."
He claimed in his latest comments that Clinton was also guilty of treason for keeping classified emails on a private server. "When people take confidential material off a server, you're sharing information with the enemy. That's treason," he told the Daily Beast.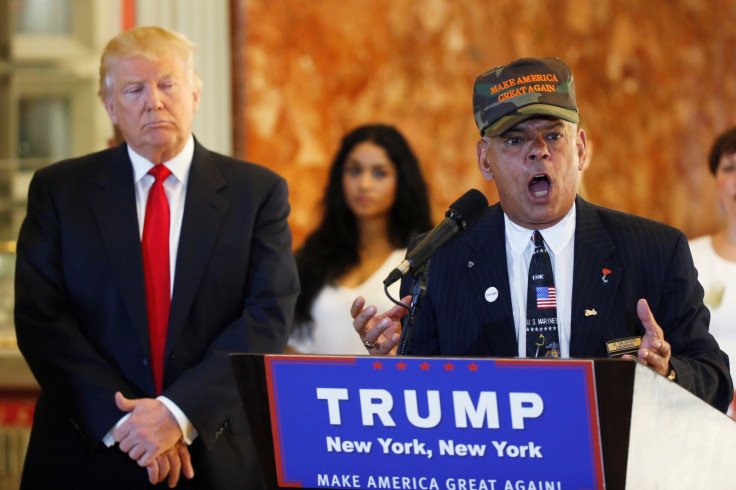 Earlier he had called Clinton a "piece of garbage" for the "lies that she told those mothers about their children that got killed over there in Benghazi."
In its final report, the House Select Committee on Benghazi criticised the State Department for the lack of adequate security at the consulate ahead of the 2012 attack, but did not find that Clinton was personally responsible for making security decisions.
Trump campaign spokesperson Hope Hicks told NH1 News concerning Baldasaro: "We're incredibly grateful for his support, but we don't agree with his comments." He "doesn't speak for the campaign," she added.
She would not say if Baldasaro will continue to travel with the Trump campaign or remain an adviser.
Trump supporter and Arkansas Senator Tom Cotton, who spoke at the 2016 Republican National Convention, said on CNN that Baldasaro's "...rhetoric has no place in American politics."
He explained: "That's not keeping with the best traditions of American politics. We have opponents. We have adversaries. We don't have enemies in American politics."