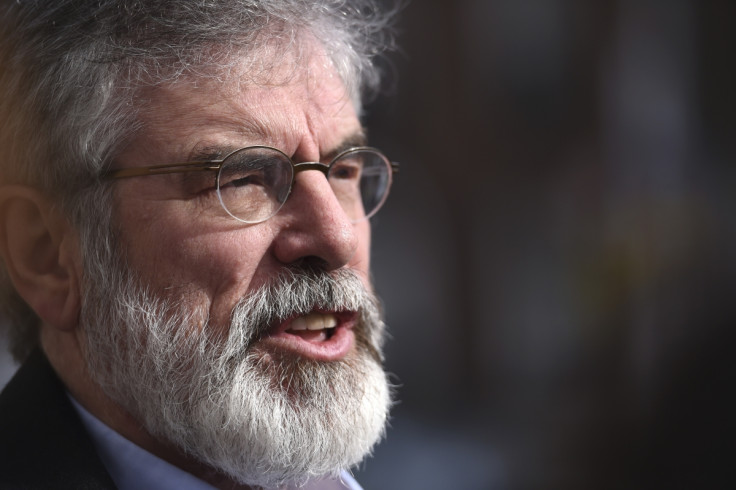 Sinn Féin leader Gerry Adams was left cooling his heels outside the White House — for St Patrick's Day celebrations, no less — and the US Secret Service is now apologising for denying him entrance to attend a reception hosted by President Barack Obama where he was an invited guest.
Adams was blocked from entering the White House by Secret Service agents because of "security concerns," according to Adams' staff. The agency is now blaming an administrative blunder, reports CNN.
"I had received my usual invitation to attend the St Patrick's Day celebrations in the White House and was pleased to accept," Adams said in a statement. "When I arrived the staff at the White House informed me that there was an issue of security."
He added: "After two decades of traveling back and forth to the USA and countless meetings in the White House with successive US presidents, this is an unacceptable development. It is obvious that there remain some within the US administration who seek to treat Sinn Fein differently."
The Secret Service said in a statement that it was sorry the reception issue hadn't been "resolved in a more timely manner." Adams waited for over an hour while agents attempted to "clear him," but left before he was allowed inside.
"Unfortunately, an administrative input error received by the Secret Service was not able to be rectified promptly," said the Secret Service statement. Sinn Féin's deputy party leader, Mary Lou McDonald, and Sinn Féin's Northern Ireland deputy first minister, Martin McGuinness, were both admitted.
Adams, McDonald and McGuinness later met with the American Congressional Friends of Ireland, the Guardian reported. "They too shared our grave disappointment at the White House situation and expressed their determination to have this issue resolved," said Adams. "Sinn Féin will not sit at the back of the bus for anyone. We are elected to represent citizens and we will do this."
Adams, a prominent Catholic politician who helped broker peace in Northern Ireland, has been the president of his party since 1983. Sinn Féin, once the political wing of the Irish Republican Army, is an opposition party in the Republic of Ireland and the second-largest party in Northern Ireland's legislature.
Adams was arrested in April 2015 and questioned in the unsolved 1972 murder of mother-of-10 Jean McConville, who had been wrongly suspected of being an informer against the IRA. He was released after 96 hours of questioning, and no charges were brought against him.
"I am conscious there is another family at the heart of this. That is the family of Jean McConville," Adams said later at a press conference. "Let me be very clear, I am innocent of any conspiracy to abduct, kill and bury Jean McConville."
Officials did launch a case in late 2015 against IRA member Ivor Bell based on information he provided student researchers from Boston College.