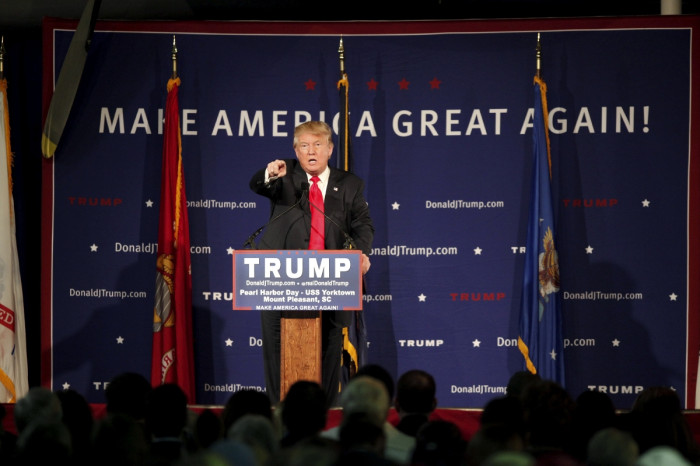 Anti-Muslim US Presidential candidate Donald Trump attended a 1995 fund-raising event for Irish Republican party Sinn Fein in New York, just a few months before the organisation's military wing, the IRA, broke a ceasefire and mounted a deadly bomb attack on London. Footage of the event shows Sinn Fein's President Gerry Adams joking about playing "the Trump card" as he shakes Trump's hand, while outside, victims of IRA violence mounted a street protest.
The lavish $200-a-seat event, at New York's Essex House Hotel, took place after Adams was granted a visa by the US, despite furious objections from the UK government led by Prime Minister John Major. Four months later, a massive IRA bomb devastated London's Canary Wharf district, killing two people.
It is unclear who invited Trump to the event, though Sinn Fein's official newspaper An Phoblact, insists he attended only briefly as a guest, did not make any donation to the Irish cause and had no further links with Sinn Fein. At the time the peace process was in its early stages, and outside the hotel protesters were interviewed talking about IRA violence against young people in their own communities, as well as terrorist atrocities such as the Shankill Road massacre of 23 October 1993.
The IRA had hoped to target a meeting of UDA leaders but their bomb went off prematurely. 10 people died including two children, as well as Thomas Begley, the IRA bomb-maker whose bomb went off. Gerry Adams was a pallbearer at Begley's funeral.
One of those interviewed outside the New York dinner was Alan McBride, whose wife and father-in-law died in the Shankill Road massacre. In the interview McBride says of Adams: "He justifies the existence of the provos, of Sinn Fein, of the IRA, claiming that they were fighting for a just and lasting peace. Well I'm sorry, but I don't see how my wife's murder helped IRA/Sinn Fein achieve peace. It's hypocrisy. Gerry Adams is a hypocrite."
However, An Phoblact points out that McBride later became a vocal advocate for peace, appearing with Gerry Adams in a Channel 4 documentary and speaking about reconciliation at a Sinn Féin Summer School in County Cork in 2012. An Phoblact calls Trump's anti-Muslim comments outrageous and dismisses efforts to link him with the Republican cause as "desperate." The Guardian attempted to obtain a response from Trump, but none was forthcoming. Over 300,000 people have now signed a petition calling on Trump to be banned from the UK.