A page on the US Department of Education website dedicated to providing information for families of students with disabilities has disappeared and now redirects to the Office of Special Education and Rehabilitative Services. The disappearance has led two US senators to complain and ask newly-confirmed Education Secretary Betsy DeVos to restore it.
According to SeattlePI.com, the webpage was established during the administration of President George W Bush as a "one-stop" explanation for educators, advocates and parents on the federal Individuals with Disabilities Act (IDEA). The site disappeared prior to DeVos' contentious confirmation and now redirects to another website.
US Senators Patty Murray and Maria Cantrell have written a letter to DeVos demanding an explanation and restoration of the site. The two senators say they are "deeply concerned" by the move and claim the new website "lacks much of the information previously available".
"The Department's failure to keep this critical resource operational makes it harder for parents, education and administrators to find the resources they need to implement this federal law and protect the rights of children with disabilities," the senators wrote to DeVos.
SeattlePI.com noted that the federal Office of Special Education and Rehabilitative Services has consistently updated the site as new legislation is passed by Congress and IDEA is interpreted by the federal courts.
The senators continued: "Recognising the diversity of the students served under IDEA, the website has provided accessible and informative summaries of the law, training materials, sample educational forms, presentations for the public, and so many other user-friendly resources."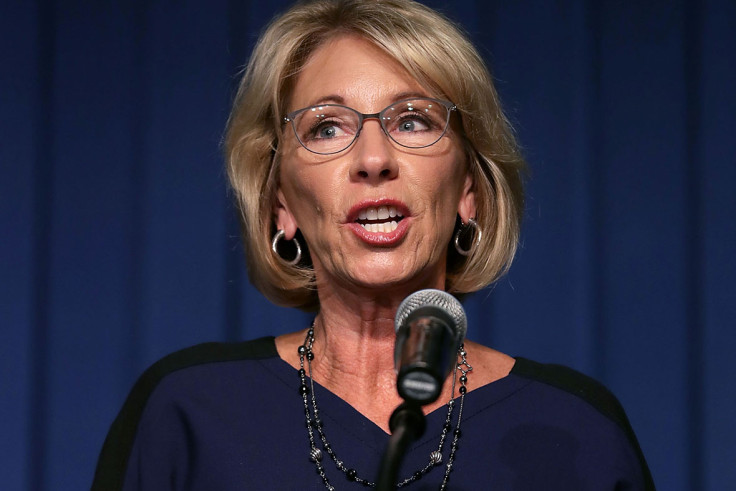 DeVos was confirmed on 7 February in a 51-50 Senate vote following a tie-breaking vote cast by Vice-President Mike Pence. The Republican mega-donor was on the receiving end of one of the most coordinated efforts by Democrats to deny President Donald Trump one of his cabinet picks. All 48 Democrats and two Republican senators voted against her confirmation.
The new education chief's job has not got easier since her confirmation. On Friday (10 February), a group of demonstrators blocked DeVos' entrance to a Washington DC middle school. Two days later, the department's Twitter was forced to apologise after misspelling the name of W.E.B. Du Bois, a black sociologist, civil rights activist and co-founder of the NAACP.
While the Tweet was later fixed, Cantwell and Murray have a list of things they want DeVos to do regarding the website change. Firstly they asked DeVos for her "assurance that this website will not be stripped down in any way during your tenure". They also asked for a "detailed timeline" of when resources previously available on the IDEA website became inaccessible and how they will be offered again to families and educators.