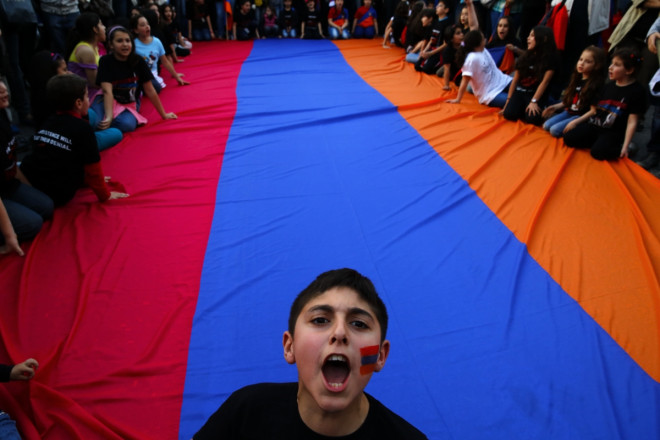 Two US senators have formally launched a bid for the recognition of the Armenian genocide.
Illinois Republican senator Mark Kirk and New Jersey Democrat senator Robert Menendez, also chairman for the Senate foreign relations committee, have called on the US to "join the EU and 11 of our Nato allies in officially recognising the Armenian Genocide".
Armenians are campaigning for the acknowledgment of the death of an estimated 1.5 million of their citizens at the hands of Ottoman forces between 1915 and 1916.
The event is considered by historians as the first genocide of the 20th century.
Turkey has strongly denied that the deaths constituted genocide, claiming that the death toll has been inflated, ascribing the killing to fighting and starvation during War World I.
"This resolution reaffirms in the strongest terms that we will always remember this tragedy and honour the memory of innocent Armenian men, women and children who were killed and expelled from their homeland. The Armenian Genocide must be taught, recognised, and commemorated to prevent the re-occurrence of similar atrocities from ever happening again," Robert Menendez said.
The resolution includes the following:
If the bill passes the Senate Foreign Relations Committee, it will come to a 100-member floor vote.
A previous bill that formally recognised the Armenian genocide was approved by the US house committee on foreign affairs in 2007. However, the Turkish lobby managed to block its passage in the Congress with threats of a possible restriction of its airspace as well as of ground-route access for US military and humanitarian efforts in Iraq.
A row between France – who has formally recognised the Armenian massacres as genocide -and Turkey erupted when the French Senate in 2011 passed a bill that criminalises denial of acknowledged genocides, which includes both the Holocaust and the Armenian Genocide.
However, the bill was considered unconstitutional in 2012 by the French Constitutional court.
The Turkish government called it "an example of irresponsibility" .