US-South Korea joint drills include simulated pre-emptive strikes on North's nuclear and missile sites
Pyongyang issues white paper denouncing Washington-Seoul's joint military exercises.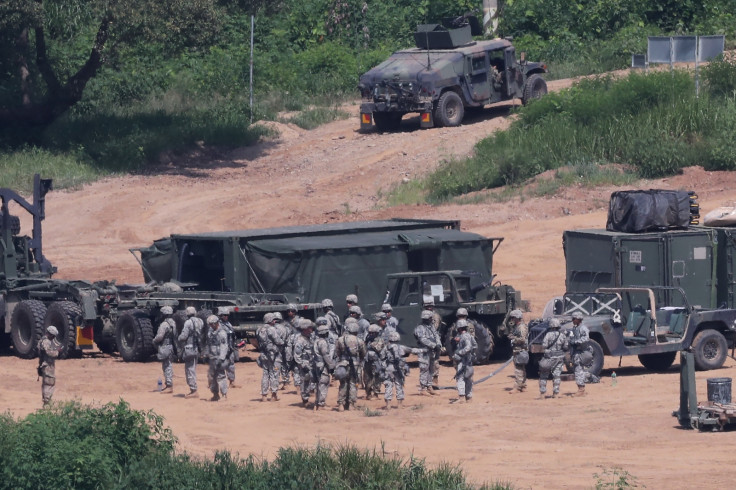 The US and South Korea have conducted simulated pre-emptive strikes on North Korea's nuclear and missile sites during the two-week long joint military exercises. The annual event, which comes to an end on Friday (2 September), has made the American and South Korean forces better equipped to deal with Pyongyang's provocations, officials have said.
The exercises, known as Ulchi Freedom Guardian (UFG), saw some 25,000 US forces and 50,000 South Korean soldiers taking part carrying out mock attacks on North Korean positions. "The two-week exercise helped strengthen the allies' crisis management abilities and joint readiness posture. They are more prepared to fight tonight in case North Korea makes any provocative moves," a defence ministry official told the Yonhap news agency.
The military exercises, seen as a rehearsal for an actual attack by Pyongyang, began on 22 August at the height of tensions in the Korean peninsula. The North had constantly threatened to launch a pre-emptive strike on the event amid test-firing a ballistic missile from a submarine on 24 August.
Although the annual drills involve computer-simulated strikes with less significant field manoeuvres, the South Korean official said: "But this time, the drill reportedly included a training drill that outlines possible pre-emptive attacks on the North's nuclear and missile facilities."
Meanwhile, the North has released a white paper heaping scorn on the exercises on the final day of the drills. Although Pyongyang is used to issue statements via state-backed mouthpieces to condemn such events, it is rare for the reclusive nation to release a white paper.
"The white paper branded the joint military exercises as a direct product of the hideous hostile policy toward the DPRK [Democratic People's Republic of Korea] pursued by the US and its military strategy. If they persistently resort to military exercises and other nuclear war exercises against the DPRK, they will face a most merciless and miserable end," said the Korean Central News Agency (KCNA).
© Copyright IBTimes 2023. All rights reserved.