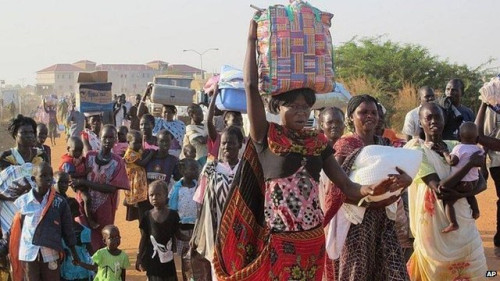 The US government has urged parties in South Sudan to sign an agreement to end the conflict or risk losing hundreds of millions of dollars in aid.
President Barack Obama's administration has pledged $50m (£30m) in humanitarian aid while peace talks continue in Addis Ababa, the capital of Ethiopia.
The two sides, drawn along tribal lines and loyal either to President Salva Kiir or ex-vice-president Riek Machar, have begun face-to-face discussions and agreed a ceasefire - although neither side has agreed on a starting date for the truce.
During the talks, rebels asked for the release of several political detainees who had been accused of plotting against the government.
On Wednesday, the government leaders proposed to shift the peace talks to the United Nations compound in Juba, capital of South Sudan, enabling the 11 detainees to attend the negotiations and then return to custody.
But rebel delegates appeared to have rejected the proposal.
"The United States is disappointed that the detainees being held by the government of South Sudan have not been released," Obama's national security adviser, Susan Rice, said.
"The United States reiterates its call upon President Salva Kiir to release the detainees immediately into the custody of IGAD [the Intergovernmental Authority on Development] so that they can participate in the political negotiations," Rice continued.
China has also expressed its concern for the conflict.
"China's position is very clear: We call for an immediate cessation of hostilities and violence," Chinese foreign minister Wang Yi told reporters in Addis Ababa.
The conflict started when Kiir, who is an ethnic Dinka, accused his former and vice-president Machar, an ethnic Nuer, of an attempted coup in December.
Machar denied the allegations and in turn accused the president of planning a violent purge.
The accusations sparked violence between the two tribal groups and escalated quickly into an ethnic conflict, which has caused the death of over 1,000 people and left thousands uprooted.
"There is clear evidence that targeted killings have taken place, with Dinka killing Nuer, and Nuer killing Dinka. Countless civilians, particularly women and children, have become victims," US diplomat for Africa, Linda Thomas-Greenfield, said.
"It is the obligation of both President Kiir and Mr Machar to ensure that the lives of their people and future of their young country are not further marred by continued violence and atrocities."