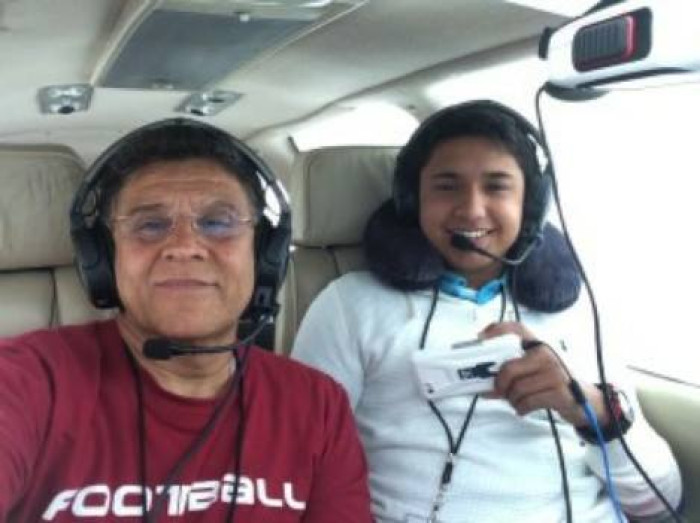 A teenage American pilot trying to set a new world record for flying around the globe has died after crashing into the Pacific Ocean.
Haris Suleman, 17, was on the final leg of his journey in his single engine Beech A36 Bonanza aircraft when he went into the ocean off the coast of American Samoa.
Family spokeswoman Annie Hayat confirmed Haris body had been recovered, but the body of his father, Babar, who was also on board, is still missing.
At the time of the crash, Suleman recently secured his pilot's licence and had been attempting to become the youngest pilot ever to circumnavigate the globe in 30 days.
Suleman had left Indianapolis in the US on 19 June, with the aim of returning on July 26.
The teenager's flight was raising funds for The Citizens Foundation, a non-profit organisation promoting educational rights for disadvantaged young people. The money raised was to build schools in Pakistan.
American branch director Daniel Moorani said Suleman was "a magnificent young man".
Suleman and his father had stopped in Europe, Africa, Asia and the South Pacific on their trip.
They were on one of the last legs of their trip, with just stops in Hawaii and San Francisco left before ending the trip in Indianapolis.
The plane took off from Pago Pago in American Samoa at 9.58pm local time on Tuesday, heading for Hawaii. It crashed in the ocean at 10.15pm in good weather, with witnesses reported seeing it going into the water about a mile from shore.
In a statement, the Citizens Foundation said: "It is with great sadness that we can confirm that a Beechcraft aircraft flown by Babar Suleman and his son Haris, from Plainfield, Indiana, has crashed into the ocean near American Samoa.
"Haris's body has been recovered. His father has not yet been found. They were on the final leg of an inspiring journey around the world in 30 days to raise funds for The Citizens Foundation, a non-profit building schools for underprivileged children in Pakistan. Their goal was to raise $1 million and two donors had already offered to give enough money to build two schools."
Suleman's sister, Hiba Suleman, said the trip had been a dream of her father's for years and that her brother was also excited about it.
"He was loved by everyone. He was involved in school activities. Just had a lot of supporters for his trip. Teachers, people he would meet just on the street -- he just won them over," she said, as reported by the Daily Telegraph.
She added that both her brother and father were trained in emergency ocean landings and were wearing protective clothing.
Speaking to the Indianapolis Star earlier in the trip, Suleman said: "There is so much beauty and culture in each country that I couldn't possibly witness all that I want to in the span of two days. That's the maximum time we've been able to spend at a stop."