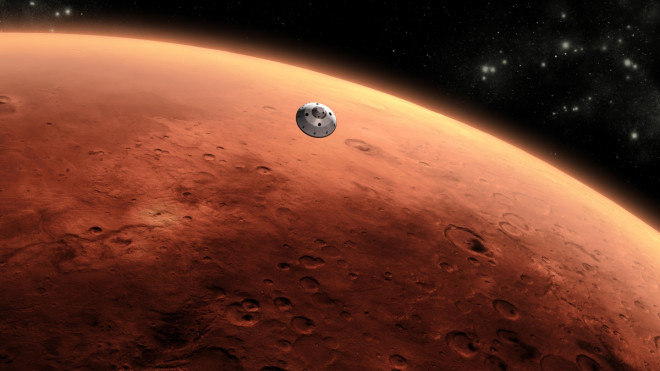 A US company is offering the public a chance to name a crater on Mars for just five dollars, as part of a mapping project.
The space-funding company Uwingu launched the project to raise money for science and education efforts, such as the search for extraterrestrial life. If all craters are named, an amount as large as $10 million will be collected by the company.
Alan Stern, CEO of Uwingu, told Fox News: "This is the first people's map of Mars, where anybody can play. It's a very social thing."
Stern is a former Nasa executive who is fronting the space agency's New Horizons mission to Pluto.
He added: "We're developing this grant fund - the Uwingu fund - for people who've been hit by sequestration. There's nothing like it right now. They have no place to go; it's either Nasa, NSF [the National Science Foundation] or you're out of luck."
On the website, the project is said to fund "grants to space researchers, educators, and entrepreneurs in this time of government cutbacks".
According to Stern, around 15,000 craters have already been allocated names approved by the International Astronomical Union. He told NBC news that they will be added onto Uwingu's list.
The project will work on a first come, first serve bases and names will be accepted immediately, unless they are deemed offensive or inappropriate. There are around 500,000 catalogued landmarks on the Red Planet, waiting to be given monikers by the crowdsourcing project.
Unofficicial names are often given to craters. Eagle's Crater marks the spot where Nasa's Opportunity rover landed a decade ago.
Previously, Uwingu raised money by offering the public the chance to name the new exoplanets being discovered around the galaxy.
The website reads: "For years, space mission rover drivers have named craters on Mars and Apollo astronauts have named landing site landmarks on their Moon missions.
"Now it's your turn, creating the first citizen's Mars map with names for all of the approximately 500,000 largest, still unnamed craters on Mars! You can also help name the map grid rectangles of all the Districts and Provinces in our address system–the first ever address system for Mars."
Dr Teresa Segura, planetary scientist and former NASA science director, told GMAnetwork: "This project is truly groundbreaking for public participation in the exploration of Mars. Only imagination limits your choices, and I love that it supports funding for space research and education."