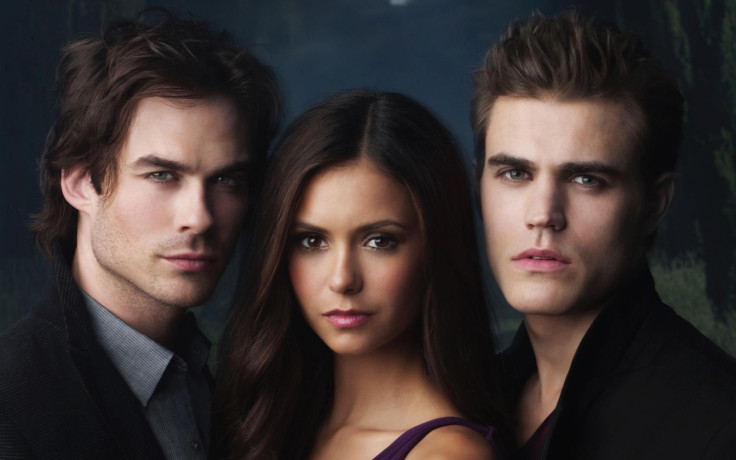 Damon and Elena fans have every reason to rejoice as Nina Dobrev officially announced the news of her return to The Vampire Diaries for its series finale. While there's still some time before the CW show airs its crucial last chapter on 10 March, fans can feast their eyes on the first TVD reunion photo.
The supernatural series' co-creator Kevin Williamson shared a nostalgic picture of 28-year-old Dobrev and her co-star Paul Wesley aka Stefan Salvatore on social media sending fans on a trip down the memory lane.
"Friday night with some old friends. @paulvedere @ninadobrev #tvdforever,"wrote Williamson – who is co-scripting the series ender - sending TVD fans on overdrive.
"I think I just died," a fan commented, while another added, "omggg look how happy steffan and elena look but Damon where u at tho???"
This comes after the Bulgarian-Canadian actress shared the happy news of her return as Elena Gilbert on the show after she quit following season 6.
"I know it's Thursday, but this is not a TBT. #BackOnSet #TVDForever," the xXx: Return Of Xander Cage star wrote announcing her return with a snap of the script on the picture-sharing site. Dobrev's comeback for the series finale has been a much-anticipated one, so much so that her once co-star and lover Ian Somerhalder too weighed in on their reel-life characters influence in each other's life.
"[Elena's] always ever-present, and she plays a great deal into Damon's morality, his understanding of who he is — especially in these last episodes," the 38-year-old actor, who plays Damon Salvatore said. "Despite everything he's gotten involved with, he's still trying to make decisions Elena would approve of, because she is still the light in his life, even cast in the darkness of her absence."
As CW's popular supernatural show, The Vampire Diaries approaches its end after eight long seasons, show-creators Williamson and Julie Plec couldn't be more happier that they have Dobrev coming back for a fitting goodbye.
"I'm thrilled to bring this show to an end the way we always intended - with Nina back to help us say goodbye," Plec said, while Williamson added, "I'm so excited to have Nina back to ensure our farewell episode is truly epic!"
Dobrev had infamously dated her TVD co-star Somerhalder in real life from 2010 to 2013. When she left the show, following their break-up, the actress's immensely popular character was put to sleep rather than being killed in season 6.
Now, as she is set to come back, speculations are in that Elena and Damon will finally get married in the series finale. What do you think will happen? tell us in the comments below.