Vanity Fair magazine's 24th annual Hollywood Issue featuring Nicole Kidman, Tom Hanks and other A-listers has the internet in a frenzy for all the wrong reasons.
At first glance, the prestigious edition, shot by renowned photographer Annie Leibovitz, is undoubtedly stunning: beautiful celebrities dressed in designer ensembles with effortlessly cool poses. However, that was quickly all ruined by a bizarre Photoshop fail which made the star-studded event the butt of jokes on social media.
Twitter erupted with memes and questions after eagle-eyed fans picked up on a shading blunder on the cover shoot, which made it seem that Reese Witherspoon had a "third leg".
"I'm tryna figure out how many legs Reese Witherspoon's got in here, it's been bothering me for the last five minutes," one person said.
"I don't understand this. I don't understand any of this."
Another wrote: "Oprah has three hands & Reese has three legs, and we are here for accepting them for who they are!! 2018 is all about LOVING OUR BODIES!!" someone else teased.
Although Vanity Fair later explained that the "third leg" was just the lining of her dress, the Big Little Lies star decided to run with it and her response is pure gold.
She told her 2.1 million Twitter followers: "Well... I guess everybody knows now... I have 3 legs. I hope you can still accept me for who I am. (and I will never apologize for snuggling @Oprah .. if you get the opportunity, I highly recommend it;)".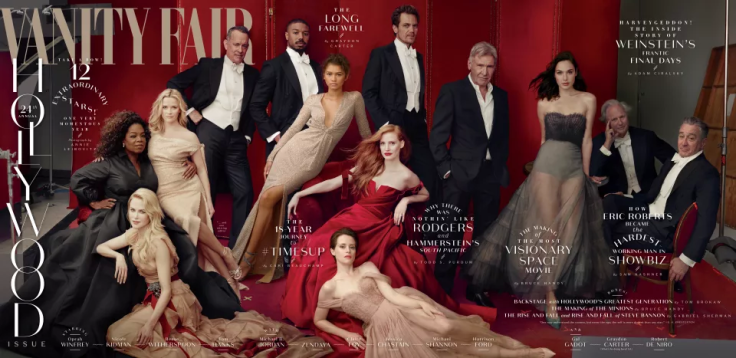 The 41-year-old actress was not the only one given extra limbs. In another photo from the same shoot, media mogul Oprah Winfrey appears to have acquired a third hand.
In one of the images, Witherspoon is sitting on Winfrey's lap while the latter has a hand on her hip, a hand on her lap, and then a third hand wrapped around Witherspoon's waist.
"I accept your 3d leg. As I know you accept my 3d hand," she told Witherspoon.
Jessica Chastain, Harrison Ford, Michael B Jordan, Zandaya, Gal Gadot, and Graydon Carter are also among the 12 stars and one journalist enlisted to pose up a storm for Leibovitz.
Time's Up
The cover shoot focuses in part on the Time's Up movement, the anti-harassment initiative which also aims to combat gender inequality in the workplace and support victims of sexual harassment and abuse.
Amid the online furore, Vanity Fair revealed that James Franco had been digitally removed from the cover after five women accused him of sexual misconduct.
"We made a decision not to include James Franco on the Hollywood cover once we learned of the misconduct allegations against him," the spokesperson told The Hollywood Reporter.
The 2018 Hollywood issue of Vanity Fair is out on 2 February.