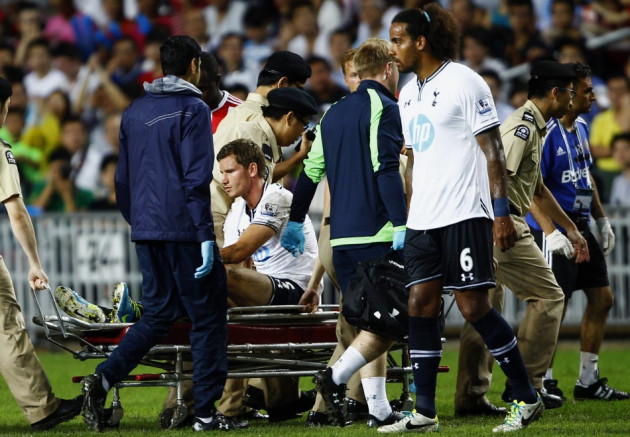 Tottenham Hotspur manager Andre Villas-Boas fears defender Jan Vertonghen may have damaged ankle ligaments after being stretchered off during the club's pre-season defeat to Sunderland in the Barclays Asia Trophy.
The Belgian centre back was withdrawn six minutes after coming on as a half-time substitute after slipping in the torrential rain in Hong Kong.
Goals from Cabral, Wes Brown and David Moberg Karlsson gave the Black Cats victory in a game which was reduced to 40 minutes per half and initially delayed by 30 minutes due to the wet conditions.
And those same unsettling settings led to Vertonghen losing his footing early in the second half and eventually being carried from the field, but Villas-Boas is confident he will be available for the start of Tottenham's Premier League season.
"He might have sprained the ligaments in his left ankle," Vertonghen said. "We need to have an MRI to see the full extent.
"But there is some range of movement in the ankle so we hope that it won't be that long. We hope he will be back for the first game of the season."
"I was concerned but what can you do? The pitch is what it is, it's always like that at this tournament. The conditions are poor, they're always like that.
"You can't change the conditions. They are extremely poor."
Gareth Bale was missing from the Tottenham team after picking up a training ground injury, however Villas Boas was again forced into calming speculation regarding his future, following further Spanish media claims that the Welshman is on the brink of joining Real Madrid.
"I can't make any more comments because I made them at the press conference before this game," the Tottenham boss said.
"I don't want to repeat myself in every press conference about this situation."
Spanish reports on Tuesday claimed Bale had agreed a six-year contract to sign for Madrid, while Manchester United have been mentioned with an interest in recent weeks.