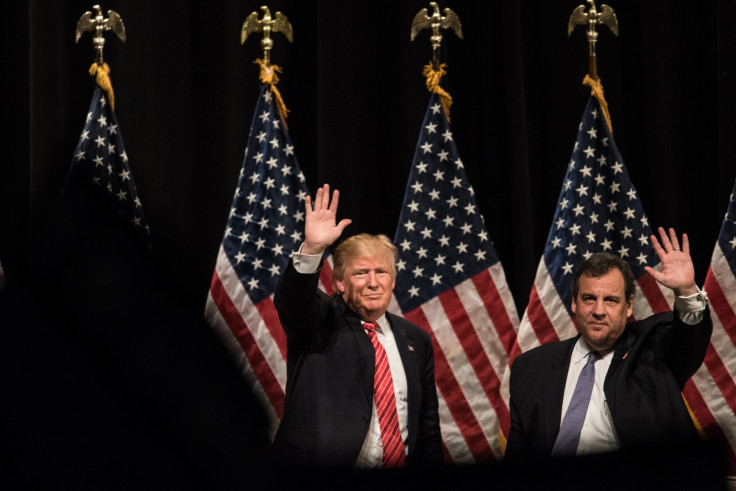 Presumptive Republican nominee Donald Trump is vetting former GOP rival New Jersey Governor Chris Christie as his possible running mate, two top Republican officials claim. Christie has been one of Trump's biggest supporters since suspending his own presidential campaign in February.
Two officials told ABC News Trump's campaign surrogate is going through the vetting process but is unlikely to be chosen. In May, Christie was picked to lead Trump's possible White House transition and has since reportedly become an influential adviser in Trump's campaign.
According to The New York Times, which first reported the news of Christie's vetting, Christie has vehemently defended Trump in the public. Following Trump's controversial attack on a federal judge for his Mexican heritage, Christie claimed Trump was not a racist.
In the months following his endorsement, Christie has taken on what some refer to a White House chief of staff position in Trump's campaign. The Times reported Christie has enlisted the help of his former top aide in New Jersey, Richard H Bagger to manage the transition team. Christie has also taken to soliciting the support of fellow Republican governors and political donors in personal phone messages and fundraising events.
The governor has pushed Trump to take certain decisions affecting his campaign team as well. Christie was reportedly among senior Republicans who urged Trump to dismiss campaign manager Corey Lewandowski.
However, his continued support of the bombastic real estate mogul has disappointed some members of his party. Joe Maiola, a New Hampshire strategist who helped Christie's campaign efforts in the Granite State, told the Times he was "confused and not overly happy" about Christie's involvement in Trump's campaign.
"I think he's been diminished by the way the Trump organisation has used him, and I think that's really unfortunate," Maiola said. He added, "He [Trump] just seems to blow up the efforts that Governor Christie has been making to sort of form those alliances and form those bridges."
Christie denied he would be the vice president during a press conference at the New Jersey statehouse, ABC News reported. "All I can tell you is that my intention is that I'm going to serve the rest of my term as governor until 16 January 2018, and then return to the private sector."