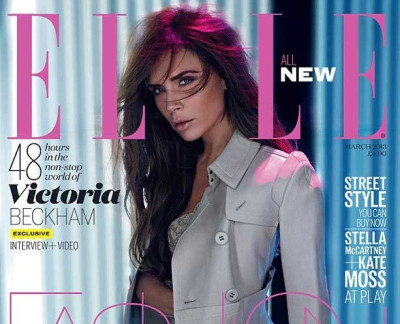 Her son Romeo was recently unveiled as the new face of Burberry. But with Victoria Beckham's latest shoot it is still a case of mother knows best.
The popstar-turned-fashion designer has turned up the heat to grace the cover of March's Elle magazine.
In the twelve page spread the 38-year-old poses in an array of sexy yet classy-outfits whilst opening up about her struggles with fame, being self-conscious and passing on her strong work ethic on to her children Brooklyn, 13, Romeo, 10, Cruz, seven, and Harper, one.
One image shows the former Spice Girl, who is married to football ace David Beckham, holding a drink wearing a neon green peplum top and black knickers. Another snap sees her posing seductively for the camera in just grey underwear and a grey leather jacket.
In the accompanying interview the WAG insisted that it was her "good work ethic" rather than her fame, that's made her fashion label a success.
"I don't have to work, I need to work. But I have a good work ethic. David has an incredible work ethic," she said.
"I want my kids to have a good work ethic. I believe you can achieve anything if you work hard enough to get it."
Beckham also admitted that felt that she had finally felt comfortable in her own skin after embarking on a career in fashion.
The 38-year-old said that she had never felt completely comfortable whilst in the Spice Girls or on the arm of her husband.
"On stage with the SPICE GIRLS, I thought people were there to see the other four, not me," she said.
"When I go out with DAVID and people take pictures I think, 'They're here to take David's picture'."
Read Victoria Beckham's full photo shoot and read the interview in the March issue of ELLE UK, on sale January 30.
IBTimes UK takes a look at the best images from Victoria Beckham's ELLE shoot.