Tunisian Islamist hackers targeted a number of Australian websites including that of Victorian Treasurer Tim Pallas and multiple religious schools across the country on Wednesday (11 January) in a campaign calling on authorities to "stop killing people in Syria". Calling themselves the Tunisian Fallaga Team, the hacking group briefly took over Pallas' site to display photographs and videos of the war in Syria along with the hashtags Op_Russia and save_aleppo.
The hijacked page displayed a message that the UN reported that Syrian government troops and allied Iraqi militia had deliberately shot and killed men, women and children in eastern Aleppo. It also warned that "the same 'slaughter' could happen elsewhere". The site was claimed to be hacked by "Mr O.Jz and Hetler Tn and Fallag Kill3r."
The site was eventually taken down and was "briefly unavailable for scheduled maintenance" and was restored 30 minutes later, the Australian Associated Press reported.
Labor Party Assistant State Secretary Kosmos Samaras told AAP that anonymous hackers had been targeting Labor MPs' websites for months, noting that political websites are seen as more desirable for them to spread their message.
"We're just in the process of moving to a more secure system," Samaras said. "If it continues then we'll have to consider talking to the authorities about it."
Multiple other Australian websites were also hacked by the group including that of the Catholic Santa Maria College in Melbourne, Nunawading Christian College and Catholic College Bendigo. Other websites targeted include the websites of training provider Future Academy, Coffs Harbour Christian Community School and the Empyrean Education Institute.
At around 4am GMT, the commercial cookery and hospitality institute's website was still defaced.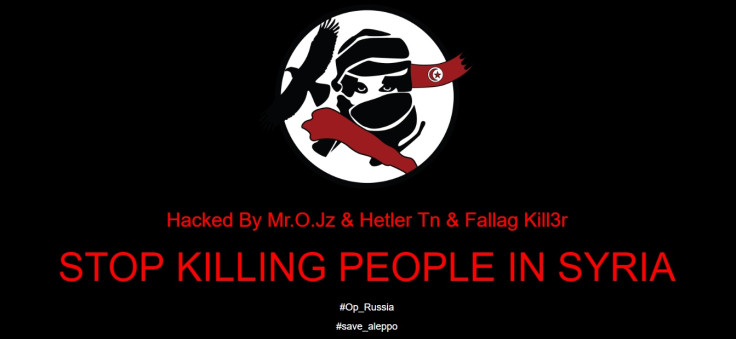 AAP reports that Russian, Italian and Pakistani websites were also attacked under the campaign. The Fallaga team is believed to have targeted French, Tunisian and Israeli websites in the past.
"Our goal is to spread the word of Islam and to help our Muslim brothers wherever they may be," a Fallaga hacker going by the name DR. XL had told Vice Media back in 2013. "And to destroy Israel...I believe in the end Islam will control the earth."
"He continued, "We have about 60 team members between the age of 18 and 32. I am only 19. "But our cause is shared by millions of Tunisians. We both defend our country and our religion, Islam.
"Right now I'm only hacking to help Muslims that can't fend for themselves, but I swear, one day, I will create something to help humanity. I want the whole world to know that Islam is not terrorism; Islam is peace."
Last week, Victoria's Human Rights Commission website was defaced by a group of hackers claiming to be a part of the notorious international hacktivist group Anonymous. The hackers posted a long message about its social network AnonPlus claiming that it is "non-criminal".
The commission's media spokeswoman said no demands were made to the organisation and no private data was stolen or affected since personal data is not held on its site.