Supermodels walking the catwalk wearing million-pound bras and butterfly wings – it could only be a Victoria's Secret fashion show.
The US lingerie label brought its annual spectacle to London for the first time, dazzling guests with a high-octane mix of fashion and entertainment that featured 47 extravagantly dressed models and performances by pop princesses Taylor Swift and Ariana Grande.
Some of the world's best-known models sashayed down the catwalk wearing lingerie paired with sparkly wings, feather skirts, and gold knee-high stiletto boots.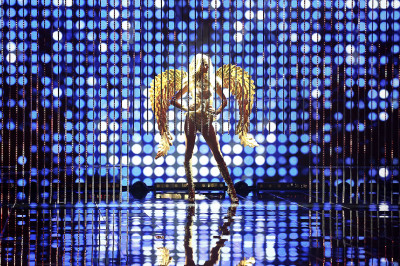 Adriana Lima and Alessandra Ambrosio showed off the brand's "fantasy bras" – encrusted with thousands of jewels and worth a reported $2m each (£1.28m).
Karlie Kloss wore gilded angel wings made of 18K gold.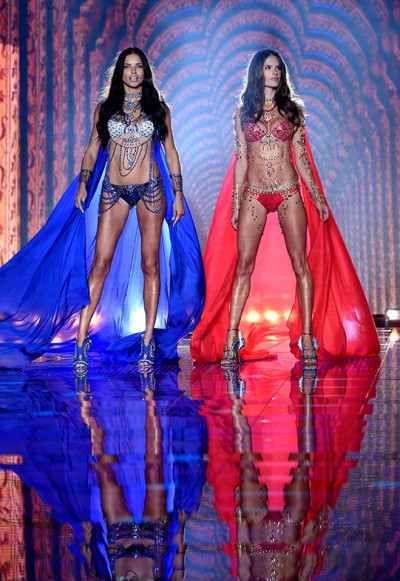 Taylor Swift performed in glamorous peach and lace, and later changed into a racy black lingerie set worn with a matching lace cape.
Ariana Grande, Hozier and Ed Sheeran also performed as models strutted around them. Asked whether he was nervous about performing so close to scantily-clad women, Sheeran joked: "That's how I usually perform."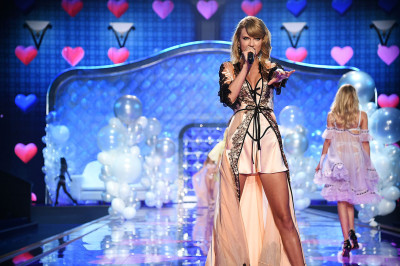 Victoria's Secret model Lily Aldridge called the performance a "little slumber party that we get to have in London" – albeit an expensive and slickly managed one.
The showing in London is part of the company's efforts to boost their global profile, while the show itself will be seen in approximately 200 countries.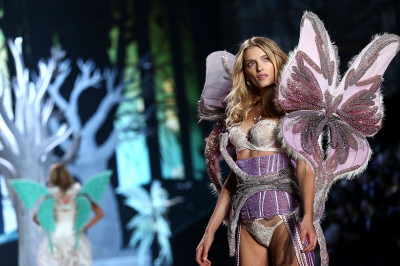 The show ended with the models parading and dancing amid hundreds of balloons. A post-show party followed late into the night.