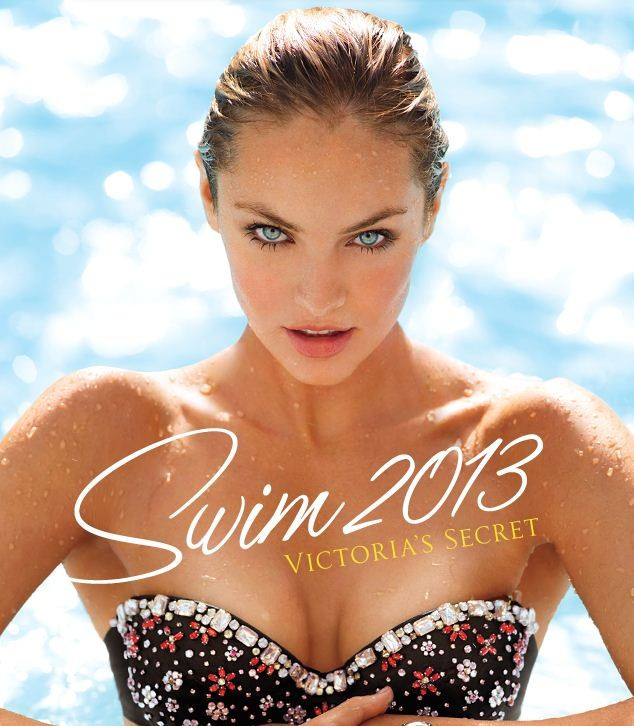 Glamorous South African model and Victoria's Secret Angel Candice Swanepoel has been named the cover model for Victoria Secret's annual swimsuit catalogue. This is the third straight year Swanepoel has been nominated for the cover.
"It was such an honour to be picked," she told People, "It is such an iconic catalogue. Before I was a model, I used to see Gisele Bündchen, Tyra Banks and all of those iconic women on it. It is amazing that a little South African girl can get on the cover."
The catalog, which is celebrating its sixteenth year, shows the 24-year-old in a very seductive bandeau top, which is from the luxury lingerie, swimwear and women's clothing brand's 2013 line of products.
"I love it - it's so sexy and gives me amazing cleavage," Swanepoel added.
The model, born in the Natal province of South Africa, posed with other Victoria's Secret Angels – Miranda Kerr, Erin Heatherton, Doutzen Kroes and Karlie Kloss – on the beaches of Miami and the Turks and Caicos Islands (a British Overseas Territory), where they were photographed by Russell James.
"Victoria's Secret is like a big family," she explains, "The swim shoots are always really fun, and I love being on the beach. I can't really complain [about my job] - I feel very lucky!"
In addition to the usual releases, Victoria's Secret has also released a new Angels & Artists video series; the first clip features Swanepoel and Kroes posing in Victoria's Secret signature bikinis to Bruno Mars' Locked Out Of Heaven.
[Video Courtesy: Victoria's Secret/YouTube]
Meanwhile, the 2013 swimsuit catalogue is the latest event in the luxury retailer's jam-packed schedule. The iconic lingerie brand held the 2012 Victoria's Secret Annual Fashion Show, its uber-glamorous and high-profile annual event, where the highlight was Brazilian model Alessandra Ambrosio, who walked the ramp in a Floral Fantasy Bra worth $2.5m (£1.5m).
Incidentally, Victoria's Secret gave Swanepoel special preference during that fashion show; she was the only model to be featured in a personal segment.
All in all, Swanepoel has established herself as the perfect poster girl for Victoria's Secret and as she explained in an Examiner report, it all seems very magical.
"I was 15 when I was scouted in a flea market. Two years later, I arrived in New York. I was in awe because it was like another planet," she admitted, adding, "It's been amazing how this crazy career has been created. I feel that it's been given to me. I wouldn't be anywhere without Victoria's Secret."