Footage has emerged of a group of Santas having a drunken brawl on the streets of New York over the weekend.
The fight took place during SantaCon, an annual festival where people dress up as Father Christmas and go on a pub crawl around cities across the globe.
CCTV footage shows the group of around 10 bad Santas fighting on the snowy streets of Manhattan.
It is not clear what triggered the fight, but it appears there are two groups of Santa's and possibly one elf involved.
"We're looking into it," said NYPD spokesman Sargent Lee Jones said after they were made aware of the video by the New York Daily News.
"We don't have any reported assaults right now. We know about it."
SantaCon is a notoriously boozy festival where revellers often over indulging. The first SantaCon was held in San Francisco 1994 and it has steadily increased in popularity ever since.
In London, thousands of Santas met up near Russell Square – avoiding their traditional meeting place of Trafalgar Square due to the Nelson Mandela vigil being held there.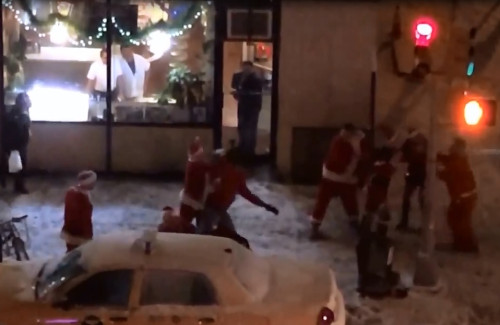 This year, event organisers said they would "clean up Santa's act", posting messages to Twitter warning attendees to be careful and vigilant, avoid public drunkenness and littering, as well as respecting the law.
The London organisers said: "Santacon is about spreading goodwill and cheer, not being antisocial. Be Jolly! Be merry! Enjoy the surreal silliness of 1,000 Santas thronging the streets of London. But make sure your merriment doesn't end up causing grief for others.
"Bad behaviour such as leaving litter, acting drunk and climbing on things is the opposite of spreading goodwill, and giving Santacon a bad rep makes it harder to put on in future years. Keep an eye on your fellow Santa and if you see a Santa being rowdy, get them to calm down.
"Be sensible about alcohol. Babysitting Santa while they vomit in an alley just isn't Christmas."
Some bar owners in New York banned Santas from entering their establishments and hiring security to manage any rowdy revellers. Disgruntled bar owner Diem Boyd distributed signs banning Santas to fellow publicans: "We have a whole day of vomiting and vandalism and people acting without any decorum or respect for other people. I think anything quaint about it is gone by now."