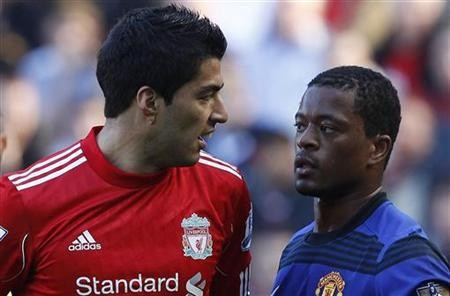 Liverpool's Luis Suarez has strongly denied using racially abusive language against Manchester United's Patrice Evra during Saturday's draw at Anfield.
The Uruguayan player has fervently disputed Evra's claims that he used a racial slur against the Frenchman "at least 10 times" during a heated exchange in the second half.
"I can only say that I have always respected and respect everybody," Suarez said on his Twitter page Sunday night.
"We are all the same. I go to the field with the maximum illusion of a little child who enjoys what he does, not to create conflicts."
Liverpool have firmly backed their Uruguayan striker after the United captain's accusation prompted the FA to launch an investigation into Saturday's 1-1 draw.
"Luis is adamant that he has not used language of that nature and the club is totally supportive of the player," a spokesman for the club said:
The investigation will begin Monday when the FA speaks to Evra to determine whether he plans to submit an official complaint.
Evra's claims were included in referee Andre Mariner's match report but he also clarified that the first he knew of the alleged incident came after the final whistle, when Evra, accompanied by Sir Alex Ferguson, came to report the altercation.
Evra later expressed his fury in an interview with Canal Plus.
"In 2011, there are things you can't say any more," he said. "The referee knows and there will be an investigation. But I don't want to repeat what he said."
When asked if Suarez used racist words, Evra replied: "Yes, he did.
"We can see thanks to the television what he said. He said it at least 10 times. We can read it on his lips."
Evra has been embroiled in similar allegations before, although no official sanctions were brought forward.
In 2008, he was involved in a race row when Chelsea groundsman Sam Bethel was accused, and later absolved, after a United official said he used racist language against the France international.
Any potential FA investigation is unlikely to be concluded quickly, given the sensitive nature of the accusations.
"Referee Andre Mariner was made aware of an allegation at the end of the fixture and has reported this to the FA," an FA statement said.
"The FA will now begin making enquiries into the matter."