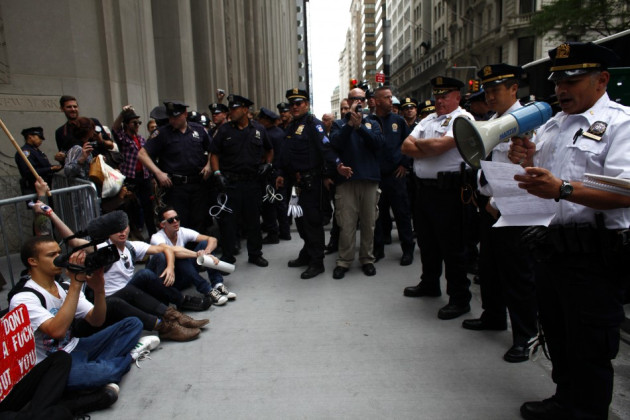 Following previous reports suggesting New York Police had stepped-up their presence in the Occupy Wall Street protest, fresh footage has emerged showing officers violently apprehending a number of protesters.
The footage captured was collected, posted and publicised on Anonymous' AnonOps website. It showed police wrestling a number of individuals from the crowd of protesters. It later showed one protester being dragged along the floor and handcuffed.
In the footage, when questioned, the police on hand declined to clarify the exact reason for each protester's arrest. The videos also don't include the incidents that motivated the polices' response.
The footage adds to growing confusion regarding the number of Occupy Wall Street protesters arrested. On Tuesday conflicting reports by the media pegged the number at around six or seven, though the new footage indicates that the numbers are now far higher.
The new videos came alongside a statement from Anonymous asking for new equipment to help the media team filming the event.
The arrests were all made during Adbusters' Occupy Wall Street protest. The campaign began Saturday with around 1,000 individuals rallying in Manhattan's Financial District. The initial call-to-arms asked for 20,000.
Reports now generally estimate the number of protesters at around 200, though it is worth noting a number of claims sent to the IBTimes have since disputed this, claiming the actual number is far higher.
The campaign is reportedly being enacted to protest Wall Street's current influence on American policy. Since being announced it has garnered widespread support from numerous groups, including the infamous Anonymous collective.
A full selection of the videos showing the arrests can be viewed here.