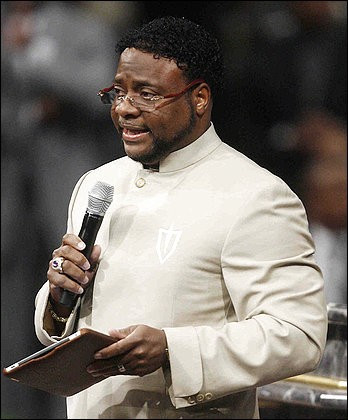 A video showing controversial US Bishop Eddie Long of the New Birth Missionary Baptist Church being crowned 'King' by Rabbi Ralph Messer during one of the church's televised services has sparked outrage with the Christian community.
The 14-minute video clip of the crowning of the embattled preacher, who is at the centre of a sex scandal following allegations that he sexually abused several teenage church members over a period of years, has gone viral just hours after it was uploaded on video sharing website YouTube.
Eyebrows were raised across the globe after viewers watched the uploaded ritual like service, currently making the rounds on the internet.
In the footage of the service that took place on January 29 at New Birth, guest preacher Rabbi Messer, who leads Simchat Torah Beit Midrash (STBM) proclaimed Long to be spiritual royalty.
Messer told the applauding congregation: "He's a king. God's blessed him. He's a humble man. But in him is kingship. In him is royalty. In him was a land of Israel. In him was a k chromosome...he was brought through the slaves, raised up in a city and God now wants to release a new anointing,"
Long was then wrapped in what was said to be a Torah, a 312-year-old priceless Hebrew scroll saved from the Auschwitz death camp after World War II, and was lifted up on a chair, similar to a throne.
While Long was being carried across the podium, Messer spoke of biblical kingship, which Long was supposed to represent.
The rabbi went on to claim that Long now sits now between two courts, the court of justice and the court of blessings, following the ceremony.
Meanwhile, outraged Christians and sceptical viewers have refuted Messer's claims, instead branding the service as idol worshiping.
One user write: "I was born and raised a Christian. However; after watching men like Long, politician­s, people tebowing. To me their making a mockery of Christanit­y. It makes me wonder."
While another shocked viewer said: "Disgusting. Nauseating. Sickening. It makes you want to weep just watching that video. How they disrespect our Lord and Savior Jesus Christ. I'm fumbling to find words to describe what I just witnessed."
The service has also had Jewish religious leaders offended and questioning its appropriateness. Rabbi Joshua Heller said: "We wouldn't wrap a Jewish person in a Torah scroll and declare him king. As a Jew, I find that use of symbols very off-putting.
"The Jewish community does not associate itself with the Messianic congregations.We don't feel like this does due justice to either the Jewish or Christian community," he added.
Long was appointed New Birth's pastor in 1987 when the church had only 300 members. By its 10th anniversary, New Birth reported a membership of roughly 18,000, peaking at 25,000.
But in September 2010, Long was sued by four former church members who alleged he used his influence, trips, gifts and jobs to coerce them into sexual relationships. The suit was settled in May. The church's attendance has declined since the sexual coercion lawsuit was filed.