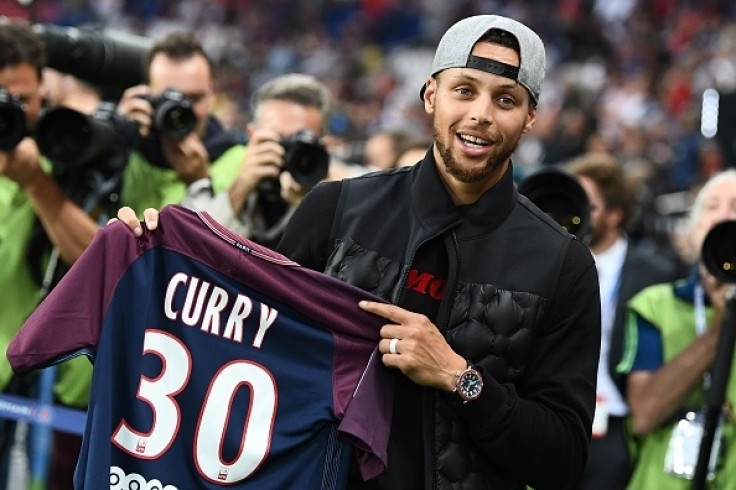 Golden State Warriors star Stephen Curry showed that he could also kick a football in addition to winning NBA titles.
The 29-year-old, who helped his team win a second play-off title in three years back in June, was in attendance at Stamford Bridge on Sunday (18 September) for Chelsea's 0-0 draw with Arsenal.
Curry is used to being watched by football stars especially during the play-offs, but this time the roles were reversed as the basketball star witnessed a goalless but entertaining match between two of London's best teams.
Following the game, the two-time MVP decided to test his right foot as he scored a penalty that hit the crossbar and ricocheted off the goalkeeper.
Curry has been a long-time fan of football, having invited Lionel Messi to a Warriors game. He was also in attendance for Paris Saint-Germain's recent 3-0 win over St-Étienne on 25 August.
The 2009 number one draft pick was also presented with a PSG jersey and took part in a ceremonial kick-off ahead of the game. Besides, he also shook hands with world record signing Neymar, who Curry has long admired.
"He's [Neymar] a star in the soccer world, showing such skill and a kind of grace when he's out there on the field," Curry said of Neymar back in 2016. "So he's fun to watch."
"I know he's a basketball head. I saw him dribbling two basketballs the other day trying to mimic my two-ball routine — I told him I appreciate that and he doesn't want to see me with a soccer ball, because I wouldn't know what to do!"
"It's pretty cool to know we've got fans all over, and obviously it's inspiring what he does on the soccer field."
You can watch Curry's penalty below.