With its lush jungles, white sand beaches and turquoise blue waters, Vietnam has enjoyed a global reputation as a tropical paradise in recent years.
But this week attention has turned to a side hidden from the tourist brochures, and one that human rights campaigners say should be a stain on the country's international standing.
Fresh details outlined in a report by Amnesty International this week show Vietnam has "secretly been the world's third biggest executioner of the last three years" – killing as many convicts as Saudi Arabia and Pakistan.
The country has been notoriously guarded about its use of the death penalty in the past, with figures classified as a state secret and campaigners for years forced to give rough estimates.
But data published in the Vietnamese media for the first time earlier this year showed 429 people had been put to death between August 2013 and June 2016 – with only China and Iran killing more people during this period.
There were 1,134 criminals given death sentences in five years between July 2011 and June 2016, figures also showed.
Amnesty, whose report on Tuesday (11 April) warned death sentences around the world had reached a record high last year, described the magnitude of state executions in Vietnam as "truly shocking".
"This conveyor belt of executions completely overshadows recent death penalty reforms," said Salil Shetty, secretary general of Amnesty International.
"You have to wonder how many more people have faced the death penalty without the world knowing."
Amnesty, a strong opponent of the death penalty, added in its report: "It is imperative that the Vietnamese authorities make publicly available a full breakdown of information on their use of this punishment in the country and immediately establish a moratorium on all executions with a view to abolishing the death penalty."
There has long been concern over the country's use of the death penalty, with countless reports of prisoners tortured for confessions and subjected to unfair trials.
Furthermore, Vietnam continues to impose death sentences for offences like corruption, fraud and drug possession, which Amnesty says fail to meet the threshold of "most serious crimes" as prescribed by Article 6 of the UN International Covenant on Civil and Political Rights.
The country's method of execution has also proved controversial.
For many years the preferred method was by firing squad, which was officially abandoned by the communist state in favour of "more humane" lethal injections in 2011.
This led the European Union to attempt to pressure the country to abolish capital punishment entirely by banning exports from EU factories that were the main suppliers of drugs used in its executions.
But in 2013 Vietnam instead announced it would be producing its own poisons.
No details were given on the nature of the drugs and the decision prompted concern from the British Medical Association (BMA) and German and Danish equivalents, who sent a joint letter to Vietnam's health minister.
Lethal injection facilities currently operate in Hanoi, Ho Chi Minh City, Nghe An, Son La and Dak Lak, but the government earlier this year announced plans to create five more centres.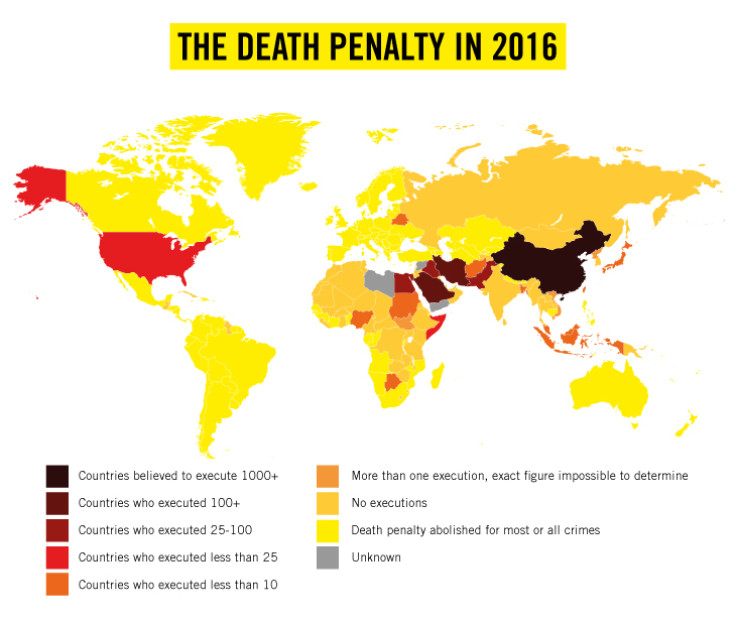 Amnesty's findings formed part of a wider report outlining the use of the death penalty worldwide.
It revealed the number of executions last year fell by more than a third compared to the previous year, with 1,032 killed in 23 countries in 2016 compared to 1,634 in 25 countries in 2015.
The figures do not include China, where thousands are believed to have been put to death last year. Like Vietnam, the precise number remains a state secret.
Despite the year-on-year fall in executions, Amnesty warned the numbers sentenced to death remain historically high.
Last year also saw 3,117 people sentenced to death – the highest ever recorded in a single year by the organisation.
At least 18,848 people were known to be on death row worldwide at the end of 2016.
China topped the list as the country carrying out the most judicial killings (in the thousands) in 2016, with the top five also featuring Iran (567 or more), Saudi Arabia (154 or more), Iraq (88 or more) and Pakistan (87 or more).
The 2016 figures for Vietnam are not known.
Kate Allen, Amnesty International UK director, accused the UK government of "toning down" its longstanding foreign policy of urging other countries to abolish the death penalty as it pursues trade deals and enters into new security arrangements.
She said: "We fear that trade and security issues are trumping human rights, with UK officials damping down their objections to the death penalty when it comes to countries like Saudi Arabia or Bahrain.
"When, shockingly, Bahrain executed three men after deeply unfair trials recently, the Foreign Secretary could muster only the mildest of rebukes.
"At its best the UK does some very important work in encouraging countries to end capital punishment, but with death sentences running at record levels around the world now is not the time to go quiet on the issue.
"If governments in Beijing, Manama, Islamabad and Riyadh see there's very little public outrage over executions, then they're going to think they've got a green light to carry on killing."
A spokesman for the Foreign Office said: "The UK's opposition to the death penalty is clear; we condemn and do not support it under any circumstances. The global trajectory is towards abolition and the UK supports this trend.
"We will continue to back the UN global moratorium on the use of the death penalty as a first step towards ultimate abolition."