A Tweet showing a picture of Donald Trump and his entourage being debriefed on an airstrike in Syria has left tech experts baffled as they attempt to identify a number of mysterious devices being used in the image.
The photo, tweeted by White House Press Secretary Sean Spicer, bares a stunning similarity to the famous 2011 picture of Barack Obama and his administration in their own Situation Room receiving news that Navy Seals had killed Osama Bin Laden. The big difference is the unidentifiable technology laid upon the table.
In the secure room at Trump's Mar-a-Lago resort in Florida there was no sign of the gaggle of laptops seen in the Obama era. Instead, mysterious white and black boxes sat in front of security advisers, defence officials, intelligence aides and the President himself.
Since the image went public people have been attempting to solve the mystery to what they are and what they do. Motherboard spoke to Tommy Vietor, the former National Security Spokesperson to President Obama, and even he was clueless to their purpose.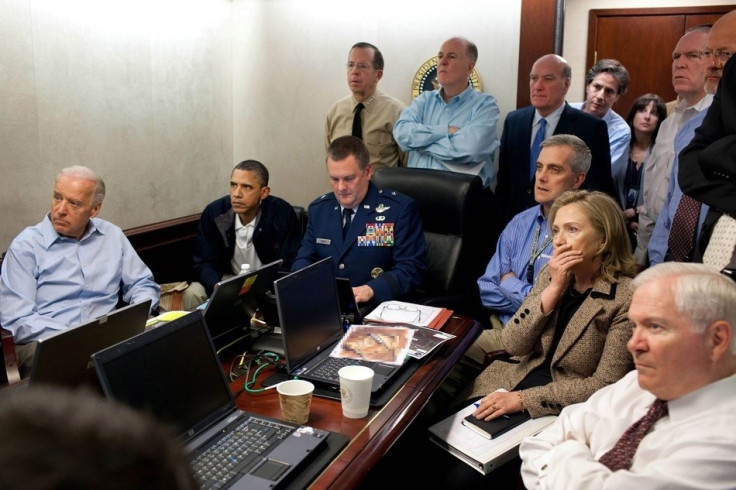 "I don't know what the black and white things are. The one in front of Reince looks like there are maybe cable inputs or a headphone jack but I don't know. They could be little displays, or maybe just receivers to pick up audio? If he's really doing a SVTC [secure video teleconference] with the SecDef [Secretary of Defense] and CJCS [Chairman of the Joint Chiefs of Staff], I would strongly suspect that it's White House comms equipment," Vietor told Motherboard.
With a monitor and webcam seen at the end of the table it would make sense the six tabletop boxes and three larger units in the middle (which are all connected) form part of a teleconference system, with each small box perhaps being a microphone for an advanced, highly-secure communications system. Any notions of a nefarious nature can be put down as wild conspiracy theory. In front of Donald Trump sits a different device, possibly Cisco's TelePresence Touch, which allows control of the conversation and offers various picture modes and chat options.
IBTimes UK has contacted a number of security and networking experts on whether they can shed some light on the devices. Tenable, global cybersecurity company headquartered near Washington, DC told us they believe: "The devices used are a noncommercial proprietary video teleconferencing system designed to run on top secret networks and provide secure connections between the cabinet and members of the National Security Council."
Alex Mathews, Lead Security Evangelist of Positive Technologies: "It's likely to be a Cisco TelePresence EX90 system, or its analogue equivalent. The interesting detail is the rather thick cables – this looks like braided shielding is being used to screen the cables from possible leaks based on electromagnetic radiation interception. It's a common security requirement for sensitive government communications in some countries. For the same reason, computers themselves are often screened with similar 'Faraday cages', so they may look unusual. It's safer than common notebooks."
While Trump has proved himself to be somewhat of a luddite when it comes to technology, even going as far as saying computers have "complicated lives very greatly", he's managed to do the same to sharp-eyed techies, flummoxing us with his gadgetry.