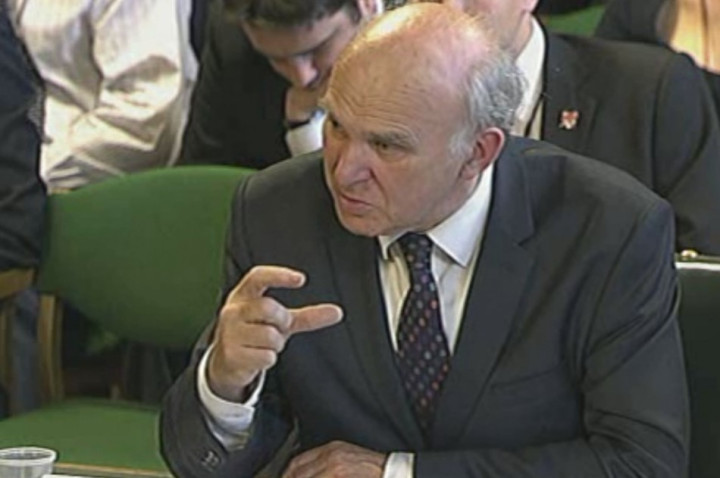 Vince Cable has not ruled out the disqualification of Barclay's chief executive Bob Diamond over the Libor rate fixing scandal.
Speaking to the Commons' business, innovation and skills committee about his proposed increases in shareholder power over executive pay, Cable was pressed on what action the government will take.
He said: "It is an appalling scandal and it's created deep damage for the reputation of Barclays and the industry."
Cable added that Diamond had "a lot of questions to answer"over the scandal which has caused Labour leader Ed Miliband to call for a criminal investigation.
He said that it would be "seriously premature" to make a decision to disqualify Diamond as a company director, but that "if the facts suggested action - subject to legal advice - then indeed that could well follow".
Cable said the Barclay's situation had not changed the government's judgement with regard to his proposals to force companies to have binding votes on executive pay every three years.
A company would then be stuck to the pay plans for the next three years, or face another vote. Firms would also publish a single figure each year displaying how much the executives had been paid.
Cable said: "Under the new system a chief executive will have to get the support of the majority of their shareholders to get their pay packet approved - they can no longer rely on inertia.
"They have to be proactive and can't just sit pack and wait to see if anyone will object."
Rebecca Harris MP (Conservative) said that Cable's new system would rely on shareholders being engaged and asked whether the recent climate had inaccurately inflated the typical expectations of shareholder interest.
Cable said: "I agree that the conditions play a part...we are trying to get behaviour to change in the long term and not encourage just spasms of interest in different conditions."
He said that the information currently provided to shareholders was often "inadequate, over complicated and inconsistent" and said the proposals aimed to "deal with this systematically."
Katy Clark MP (Labour) asked Cable what his thoughts were on concerns that executives would leave the country in search of more pay flexibility.
He said: "I don't believe in it. Whenever the government suggests something on pay we always get the cry that "we are going to leave the country", but I don't believe that's credible.
"The kind of actions we are trying to put into place are being put in across the world, such as in the Netherlands...All major western countries recognises that there has to be strong governance on executive pay."
Labour has criticised Cable for diluting his plans by not aiming for annual shareholder meetings and allowing pay deals to be passed with a 50 percent majority, rather than 75 percent.