Vince Cable Targets Executive Pay With Greater Shareholder Control
Business secretary announces plans to make companies have binding votes on pay every three years.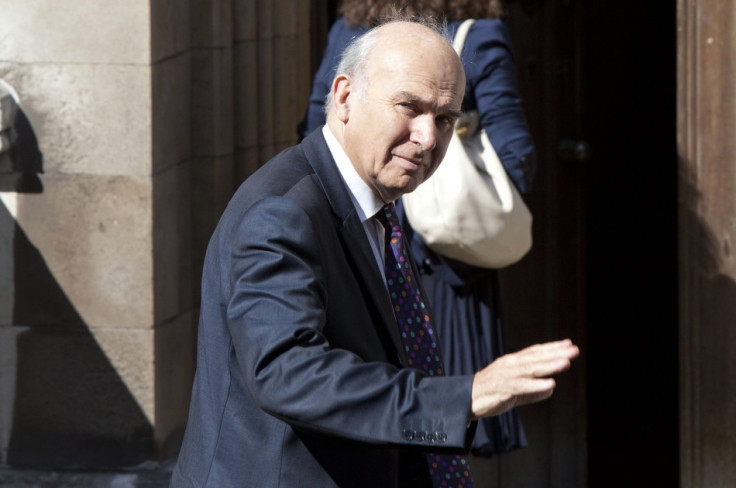 Business secretary Vince Cable has launched an attack on executive pay by announcing plans to give more decision making powers to shareholders.
Cable has proposed reforms that will force companies to hold binding votes on directors' pay plans every three years.
The votes will enable those who have invested in a company to throw out pay proposals that they believe to be inappropriate.
The business secretary had previously threatened that he would propose annual votes, but, diluted or not, the proposal will be seen as a method of cutting down the bumper pay packets that have enraged the nation struggling through an atmosphere of austerity.
"Top pay got out of control, most obviously in the banking sector, but also elsewhere in corporate Britain," he told the House of Commons.
"It was irrational and damaging and it was necessary that shareholders should have the confidence to act."
Cable also unveiled plans for increased pay transparency, as he called for companies provide a single figure for annual pay.
The votes would also cover exit payments, in an attempt to crack down on the "golden goodbyes" often given to outgoing executives.
Under current rules, shareholder are able to vote on pay packets, but they can be overthrown by the company's board.
Shadow business secretary Chuka Ummunna claimed Cable had missed out on the opportunity to enforce an annual vote.
He said: "It is deeply disappointing that having marched us all up the hill he appears to have marched us back down again," he told the BBC.
Umunna's calls for an annual vote were echoed by Deborah Hargreaves, director of the High Pay Centre.
She said: "It is disappointing that Vince Cable has backed off from imposing an annual binding vote on executive pay apckages.
"There is a groundswell of public anger over excessive pay for company bosses at a time of biting economic austerity. We should not waste the momentum that has built up for far-reaching change to pay at the top.
"The publication of a single figure for each executive's earnings is a good step forward, but will not be enough on its own to bring down top awards."
Ummunna also called for a higher threshold of a 75 percent in favour vote in order for a pay packet to be passed in a vote. The system Cable has proposed will require at least 50 percent support to be passed.
Cable's plans are "misconceived" according to James Barty, senior consultant on financial policy at the Policy Exchange think tank.
He said: "Ultimately [the plan] is too short-termist. A lot of things can change over a three year period and it is important that shareholders have the power to influence board decisions over a shorter time period.
"Retaining annual advisory votes, but with a two strike clause, such that two successive failures to pass the vote would make result in the vote becoming binding, is a more effective way of ending rewards for failure.
"This is similar to the system currently used in Australia. It would allow shareholders to fire a warning shot and companies to respond to dissatisfied investors."
Gavin Oldham, chief executive of retail stockbroker The Share Centre, claimed Cable's proposals were a sign of progress.
He said: "Institutional shareholders are now realising what personal investor have actually understood for a long time - that executive pay matters and they need to take more attention of the general conditions of the economy and how their employees are getting on."
Cable's action comes at the height of a period labelled the "shareholder spring" as investors look to apply their weight to the companies they have invested in. A shareholder revolt led to Aviva boss Andrew Moss stepping down after losing a shareholder vote on his pay.
Cable hopes to have his reforms in place by October 2013.
© Copyright IBTimes 2023. All rights reserved.