Violence erupts in Kashmir after video of man tied to jeep as human shield by Indian army goes viral
Jammu and Kashmir police have filed a case against the army unit that allegedly used the man as a human shield.
Several people were injured after violence broke out between students and government forces in parts of Srinagar, in the restive northern Indian state of Jammu and Kashmir, on Monday (17 April). The latest spike in violence came after the army allegedly tied a man to the front of a jeep as a human shield and paraded him through the villages last week.
Reports suggest that police used tear gas to scatter a group of stone-pelters. It is the latest outbreak of protests since hundreds of college students took part in the demonstrations after a botched by-election in three districts of Srinagar, Budgam and Ganderbal. Some colleges were forced to be shut after protesters shouted against Indian rule.
According to Reuters, militants had also stepped up their attacks in Kashmir by raiding the homes of police officers.
The uptick in clashes led police to investigate the widely circulated video that sparked outrage on social media. The Indian army is accused of allegedly committing human rights abuse in a bid to contain a separatist insurgency in Kashmir.
Local media reported that the Jammu and Kashmir police have filed a case against the army unit that has been accused of using Farooq Ahmad Dar, a 24-year-old shawl weaver as a human shield. Police are investigating the authenticity of the video and "action will be taken against those found guilty of misconduct," Army spokesman Lieutenant Colonel Rajesh Kalia said.
Two more unverified videos circulated on social media over the weekend. A 17-year-old was allegedly killed by paramilitary officers during the 9 April by-election, one of the videos reportedly showed. In another video, a group of workers from the ruling political party of the state reportedly renounced mainstream politics. Reuters noted that these two footages also stirred anger in the restive region.
The Kashmir valley plunged into chaos soon after a separatist militant, Burhan Wani, was killed by Indian forces in July last year. Since then, the state has been witnessing cross-border attacks. Both India and Pakistan have accused each other of violating the 2003 ceasefire agreement.
The disputed region of Kashmir is divided between India and Pakistan. However, both countries claim it in full.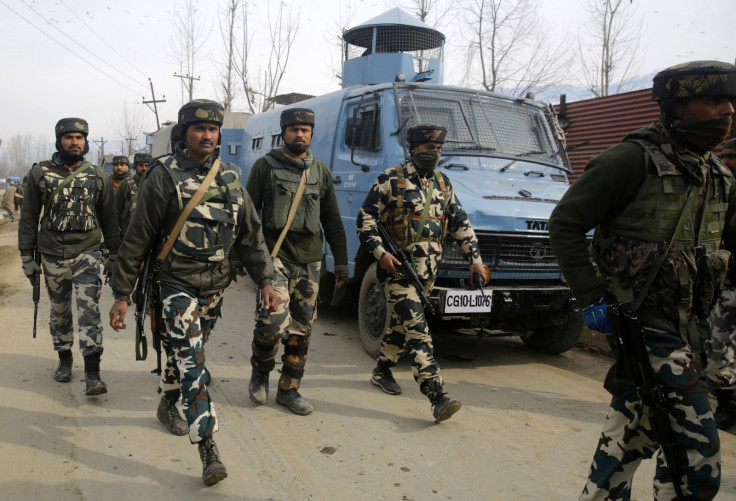 © Copyright IBTimes 2023. All rights reserved.