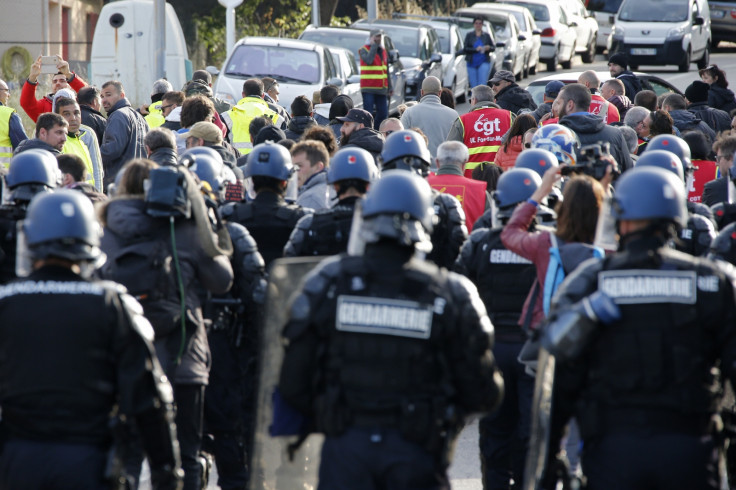 Police deployed water cannon and tear gas in the southern port city of Marseilles to break up a blockade by union workers at the Fos-sur-Mer refinery.
Workers from the General Confederation of Labour (CGT) launched a 24-hour strike at terminals in Marseille on the back of strikes in March. Blockades by the union have gathered pace in recent weeks over France's controversial new labour laws that allow employers to easily hire and fire staff. Nationwide disruptions are expected on Thursday (26 May) following calls for a day of international action.
Police crossed the oil workers' barricades at 4.30am, breaking up the demonstrations. Emmanuel Lepine, federal secretary of the CGT, said the police had used "unprecedented violence". The union leader added several protesters were injured.
Quoting a source at the police department, Le Monde reported that police faced "significant resistance", referring to as many as 200 tyre fires lit by the CGT activists. The operation ended shortly after 6am, according to police.
The industrial action has crippled France's transport network and caused travel chaos for British holidaymakers on the continent. Sky News reported the AA had seen an increase in calls from motorists in need of assistance after 1,600 petrol stations were closed.
The closure of six of France's eight refineries has had a particularly adverse effect on petrol stations in the north and north-west of the country. The Foreign and Commonwealth Office has warned that following the fuel blockade that: "Fuel purchasing restrictions have been put in place by local authorities in some parts of northern and northwest France. In certain areas you may not be able to fill up jerrycans, and fuel rationing may be imposed."
There has been increased civil unrest in France, led by a CGT vanguard, over new labour laws in the country ending the 35-hour working week meaning workers will have to work longer.
Protests across the country on 19 May were characterised by violence and arrests. The pushing through of the controversial legislation has provoked a crisis at the highest levels of French politics, with the Hollande government forced to win a no confidence vote over the law.