Yasir*, a victim of the ongoing conflict in the South Kordofan region of Sudan, has been living in the Calais 'Jungle' for five months. He lives in a makeshift shelter with six other people, who share everything from food and water to clothes. One of thousands of refugees and migrants living in squalid conditions in one of Europe's largest shanty towns, Yasir finds it difficult to express himself using words - so he communicates through art.
"When you can't tell your problems to a person, you can tell them to paper," he says. Although Yasir cannot normally afford to buy paper, he has always found other ways to make art - either by painting tents and pieces of wood, or by working with rubbish he has salvaged. Amid the ramshackle of muddy homes, makeshift shops, cafes and schools stands a colourful tent, hand-painted by Yasir. It is adorned with a Sudanese and a French flag.
Yasir, 26, has also made use of art supplies sometimes donated to the camp. He has painted everything from farmers in his native Sudan to displacement camps along the route on his journey to France and scenes from inside the Jungle. One picture depicts the Eiffel Tower, while another shows a boat crossing the Mediterranean sea.
In June, his work will appear as part of an exhibition by the Migration Museum Project in London to mark Refugee Week, through the charity Care4Calais.
Yasir is from the Nuba Mountains, an isolated region in South Kordofan which borders Sudan and the newly-formed state of South Sudan. Engulfed in conflict, the area is at the centre of fighting between the Sudanese Armed Forces (SAF) and Sudanese People's Liberation Movement-North (SPLM-N), a rebel organisation controlling territories in the region.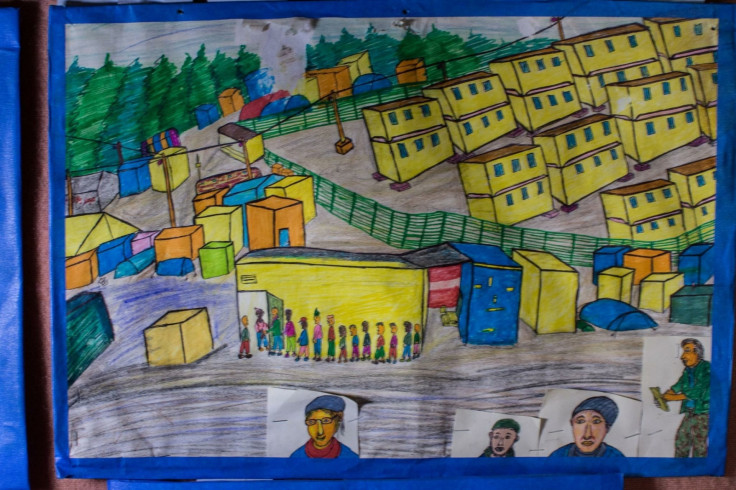 Air strikes and ground attacks by both government forces and militias have destroyed homes, hospitals and caused food scarcity, displacing tens of thousands of people. Many have fled to South Sudan, itself ridden with civil war, but others, like Yasir, have escaped to Europe.
"When the war came to the village, everything was destroyed, even the trees. The people scattered and I ran," he explains. "The army came in primarily to kill the young men of fighting age."
South Kordofan is rich in oil, which continues to create tension in the region. Yasir says the army came to kill young men who could potentially defend the region's resources. "The people know this so when they are attacked the priority is for the young men to get away," he says.
After reaching the town of Sabratha on the Libyan coast, Yasir made the treacherous journey across the Mediterranean sea to the Sicilian province of Agrigento. The oldest of six siblings, Yasir has not seen his brothers or sisters since he left Sudan. He does not know what happened to his family. For him, art is a way of expressing his suffering - the poverty, the armed conflict and his squalid life in the Calais camp.
"The conditions are bad. There is no sanitation. It is hard to keep clean," he says, adding that although he grew up poor, he was always able to keep clean. "Here there is stagnant water and no drainage. The people are too crammed in, so they can't keep clean."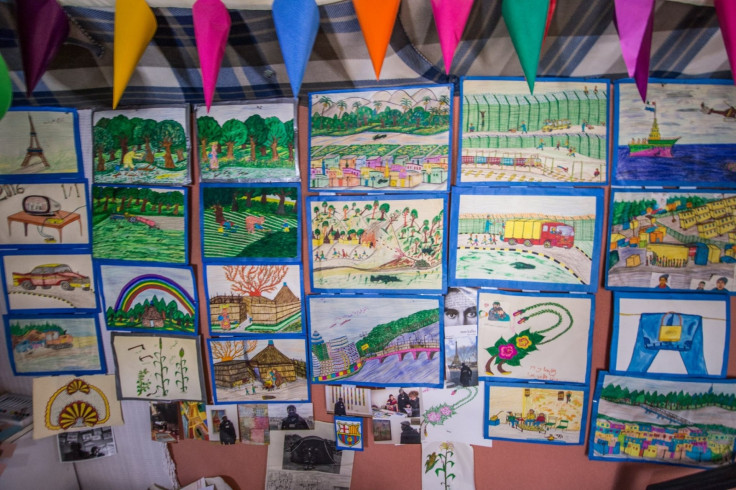 Up to 5,000 refugees and migrants live in the Calais camp. Many have fled war, persecution or despotic regimes in Sudan, Afghanistan, Eritrea and Syria, but now face conditions described as a "war zone" by volunteers working on the ground. Sanitation is deplorable, medical supplies are low and the exploitation of women and children is rife.
But while Yasir's future remains uncertain, he will continue to paint as it is his way of maintaining his sanity and coping with the horrors he has witnessed. Making art is a way for Yasir to express what he struggles to articulate in words.
Yasir says that although he wants to leave the camp, he does not know where else to go. "I want to go to England and live somewhere quiet," he says. Until then, he hopes his art will speak for other refugees trapped just 20 miles from the coast of Dover in the purgatory of the Calais camp.
The non-profit Migration Museum Project is creating UK's first permanent, dedicated migration museum which will examine the important role of migration to and from Britain. Yasir's art will be featured in a multimedia exhibition staged by the Migration Museum Project in June, titled: Call me by my name: Stories from Calais and beyond. The exhibition will highlight the human stories behind the current refugee crisis.
*Yasir's name has been changed to protect his identity.