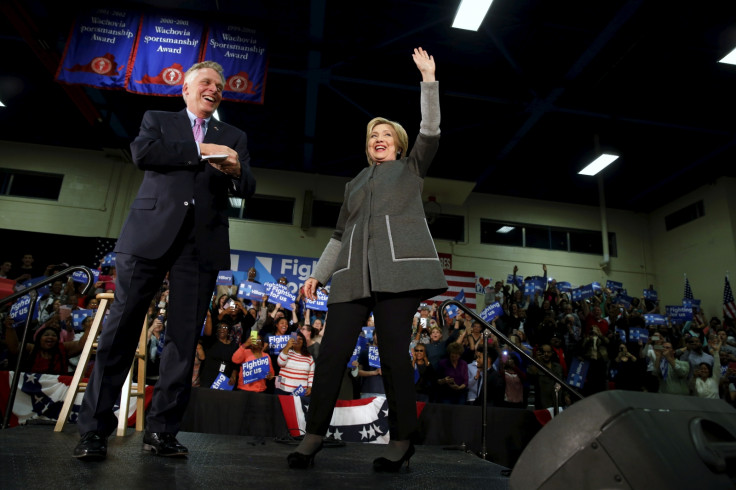 Virginia Governor Terry McAuliffe insists that the recent Department of Justice (DoJ) probe into contributions to his 2013 campaign has "nothing to do" with Democratic candidate Hillary Clinton or her family's organisation, the Clinton Foundation. The Justice Department's public integrity unit has been investigating whether donations to the Democratic governor's campaign violated the law.
McAuliffe was not told by investigators that he was the target of the probe, but an attorney for the governor's campaign, Marc Elias, told CNN that McAuliffe "will certainly cooperate with the government if he is contacted about it." The probe has looked into the governor's time as a board member of the Clinton Globe Initiative, CNN reported. Officials noted that there are no allegations against the foundation.
Speaking to reporters on Tuesday (24 May), McAuliffe said he was "shocked" by the investigation and can "absolutely" guarantee that federal investigators will not find any wrongdoing."This was an allegation of a gentleman who gave a check to my campaign," McAuliffe said. "I didn't bring the donor in. I didn't bring him into the Clinton Foundation. I'm not sure if I've even met the person, to be honest with you."
A particular donation that investigators are looking into was a $120,000 (£82,121, €107,575) donation from Chinese businessman, Wang Wenliang, who was previously a delegate to China's National People's Congress, according to The New York Times.
"Neither the Governor nor his former campaign has knowledge of this matter, but as reported, contributions to the campaign from Mr Wang were completely lawful," Elias claimed. Wang's other donations include $2m to the Clinton Foundation as well as contributions to Harvard University, New York University and environmental causes in Florida.
While US election laws ban foreign nationals from donating to elections, a spokeswoman for Wang said he holds US permanent resident status, which would allow him to donate to McAuliffe's campaign. Wang and his company have not been contacted by US federal investigators.
Despite his assertions that the probe has nothing to do with Clinton's presidential campaign, Republicans were quick to jump on the situation, Fox News noted. "Not only is this FBI investigation another reminder of the kind of corruption and sleaze the Clintons and their friends traffic in, it raises additional questions about the legitimacy of the Clintons' charitable enterprises," Republican National Committee spokesman Michael Short said in a statement.