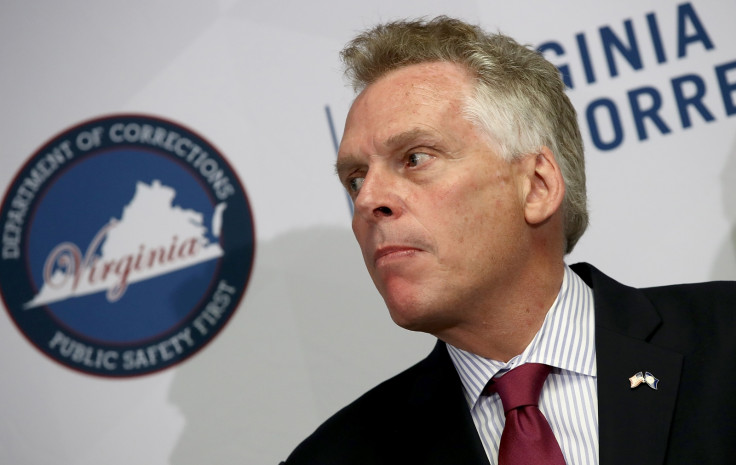 Virginia Governor Terry McAuliffe announced on Monday (22 August) that the voting rights of nearly 13,000 former criminals had their right to vote restored. The announcement was made during a civil rights memorial in Richmond.
"Restoring the rights of Virginians who have served their time and live, work and pay taxes in our communities is one of the pressing civil rights issues of our day," McAuliffe said in a statement, according to NBC News.
"I have met these men and women and know how sincerely they want to contribute to our society as full citizens again."
The Democrat governor added that more former felons could be re-enfranchised in time for the presidential election in November. "I am not content to condemn them for eternity as inferior and second-class citizens," McAuliffe said, according to Reuters.
The right restoration is just the latest chapter in an ongoing battle between McAuliffe and Republican lawmakers, NBC News noted. In April, McAuliffe issued an executive order to restore the voting rights of all Virginians who had completed their prison sentences, parole or probation.
The order, which affected an estimated 206,000 Virginians, led state Republicans to sue and claim the move was a partisan effort to help Democratic nominee Hillary Clinton. In July 2016, the Virginia Supreme Court ruled in favour of Republicans.
McAuliffe's order was ruled unconstitutional and the court added the governor lacked the authority to issue a rights restoration order affecting all former felons at once. In response, McAuliffe said he would restore the rights individually to all eligible Virginians.
However, NBC News reported that the newly re-enfranchised Virginians will need to register to vote a second time. McAuliffe said the state would deliver personalised rights restoration notifications and voter registration applications to the 13,000 people affected.
John Whitbeck, chairman of the Virginia Republican Party, told Reuters that the party was always in favour of restoring the voting rights of former convicted criminals but on a case-by-case basis. "We're going to take a really long look at the individuals who had their rights restored, make sure he complied with the court order ... and from there decide what to do," he said.
McAuliffe, however, remained committed to restoring the rights of the roughly 193,000 remaining former felons. He said that felons will be subjected to a "thorough review" involving more than a half dozen agencies, The Richmond Times-Dispatch reported.
The governor said restorations will be processed in order of those who have waited the longest. His administration will release a list of people whose rights have been restored the 15th of each month. "We will proceed," he told the crowd. "I will not stand down."