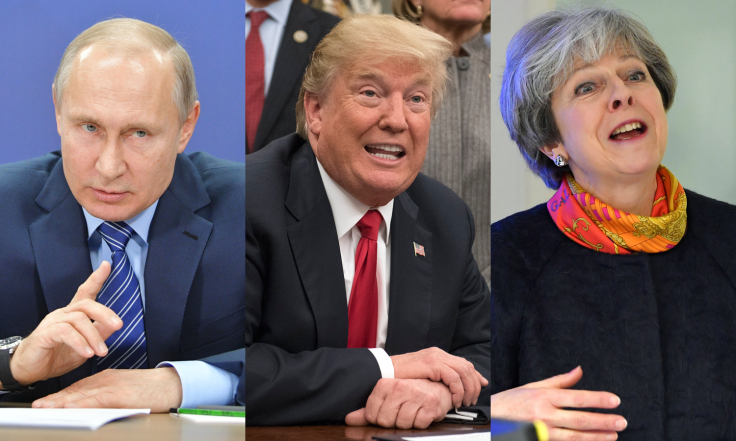 Russian President Vladimir Putin is viewed more favourably around the world than US President Donald Trump and UK Prime Minister Theresa May, according to a new poll. Trump's predecessor Barack Obama also fared better in a previous poll from 2015.
Published yesterday (11 January), the poll from Gallup International Association and CVoter International found that just 31% of those asked around the world had a favourable view of President Trump.
For Theresa May, the figure stood at 38%, meaning she just beats China's president Xi Jinping at 37%.
Putin was viewed favourably by 43% of correspondents, which marked a rise off 10% over the the 2015 poll. He tends to poll better in regions outside the US and Europe.
Obama's favorability in the 2015 was 59%.
A total of 53,769 men and women were interviewed around the world, with representative samples of around 1,000 from each country. The margin of error is reported at 3-5%.
Of those asked in the most recent survey, 58% shared an unfavourable view of Trump meaning the President has the widest margin between his two stats, at 27%. He had a favorability rating of 35% in the United States.
"President Trump is clearly dividing people in the way his predecessor did not. This means that the world is looking to other world leaders to fill this key role," said Kancho Stoychev, president of Gallup International Association.
"Russian President Putin has seen his favorability increase significantly but he still needs to convince others, as he remains divisive. Nevertheless, for the first time in a global poll a Russian leader is ranked before the US one."
Trump polled well with 24% of those in Russia, and 7% in Germany – where his rating was lowest.
Of the world leaders and figureheads included in the poll, Pope Francis attained the highest rating at 56% overall, with 75% in Latin America and 66% in Europe. In second place was German Chancellor Angela Merkel, in third was French President Emmanuel Macron.
The most unpopular leader was Iranian President Hassan Rouhani at 24%, followed by Israeli Prime Minister Benjamin Netanyahu.