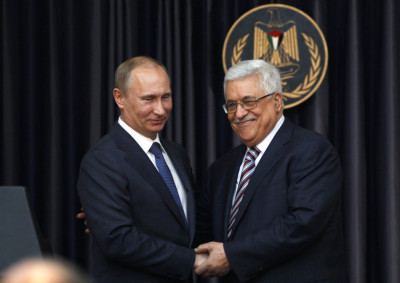 After praising Palestine's president Mahmoud Abbas for his "responsible" role in peace negotiations with Israel, visiting Russia's president Vladimir Putin arrived in Jordan to hold talks with King Abdullah II as part of Middle East tour aimed at boosting Russia regional role.
As with other counterparts in the war-torn area, Putin will discuss on Israel-Palestine peace efforts as well as the unrest in Syria, Iran's nuclear program and Russian assistance to Jordan to build a nuclear reactor for peaceful purposes. He is also expected to open a guesthouse for Christian pilgrims in Jordan.
Russia has a growing influence in the area, being Syrian president Bashar Assad's closest allies and having strong ties with Iran.
For these reasons, Jordan's banned Tahrir or Liberation Party harshly condemned Putin as "an enemy who is not welcome in Jordan" and calling him "an arch enemy of Islam and Muslims".
"His visit to Jordan is an arrogant challenge to the feeling of Muslims and a disdain of innocent blood shed in Syria," they said, according to AP.
Earlier, Putin met Israeli Prime Minister Benjamin Netanyahu who urged him to put pressure on Iran to stop its suspect nuclear program. At a state dinner with Israeli President Shimon Peres, Putin was asked to "raise his voice" against a nuclear Iran. Russia hosted the latest talks with Iran which failed to produce any success or commitments.
He visited Jerusalem holy sites such as the Church of the Holy Sepulchre, where he lighted a candle, and the Western Wall. During his visit, a national monument honouring Soviet Red Army soldiers killed in World War II was inaugurated.
Meanwhile, to highlight strong ties between the two countries, a charity has set up a £1 million annual award for excellence in any field to honour people who attribute their success to Jewish values.
The so-called Genesis Prize will be funded by a donation from three wealthy Russians: Mikhail M. Fridman, Pyotr Aven and German Khan.
"It's just one of the signs of the good relations between Israel and Russia in general," Dmitry Maryasis, a senior research fellow on Israel at the Institute of Oriental Studies in Moscow, told the New York Times. "We can say a lot of things about the present-day government, but one thing we can tell for sure is they are not anti-Semites.