Is Vladimir Putin's Russia Killing Germany's Famous Exports Sector?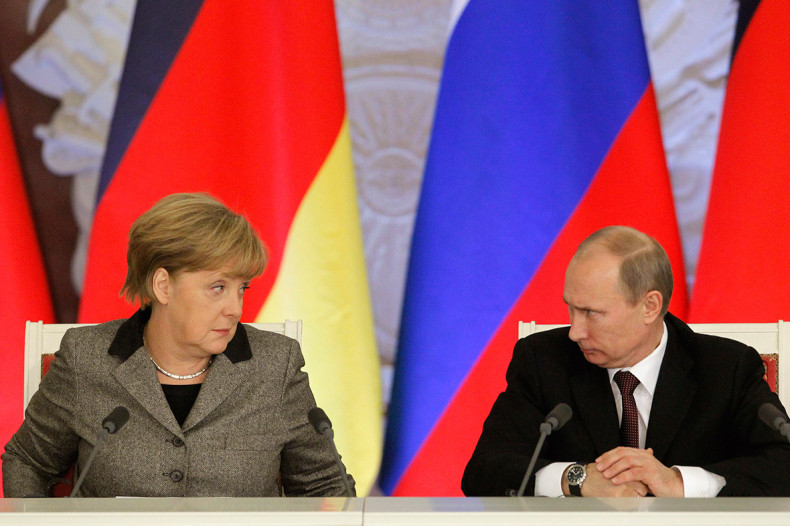 Vladimir Putin is using this weekend's G20 Summit in Brisbane as an opportunity to warn western governments of the futility of their sanctioning of Russia.
Central in his firing line was the US, which he accused of breaching the very international trade architecture it established, and Germany, the largest eurozone economy and Russia's largest regional trading partner.
"Our joint work with the Federal Republic of Germany maintains some 300,000 jobs there," Putin said. "If there are no contracts, these jobs may be lost. True, some new bearings can be found, but it still remains to be seen what these bearings are. It is not so easy."
Through six years of eurozone crises, those economies around it have usually been able to look to Germany for some comfort. Its exports sector, powered by its famed Mittelstand, midcap business engine, has steered Europe back towards recovery on multiple occasions.
But now Germany is struggling. Posting third-quarterly growth of 0.1% meant it narrowly avoided dipping into recession, highlighting the stagnation the economy is gripped by. European growth figures released on 14 November show that for the first time since 2007, the Greek economy is growing faster than Germany's.
Its exports sector plunged by 5.8% in August and while they recovered – growing 5.5% in September, month-on-month – all is not well.
How much of this is due to Russia?
Russian industry is heavily reliant on German equipment. However, the EU placed a ban on European companies exporting high-tech equipment to be used in the energy, mining and military industries to Russia earlier this year.
Germany has certainly lost out on this front. It's led to calls for the country to diversify its exports of such goods, but given the long gestation period the export of a piece of heavy machinery has, exporters are choosing to sit on their hands rather than decisively court custom elsewhere, Dr. Claudia Schmucher, head of globalisation at the German Council on Foreign Relations (DGAP) told IBTimes UK.
Thus, we've seen a huge drop in German exports to Russia. Machinery is Germany's fourth largest export to Russia.
According to Destasis, the German statistical office, its exports to Russia fell by 26.3% in August, year-on-year. From January to August, exports had fallen by 16.6% on an annual basis – leaving a €20.3bn gap in the German exports sector.
Russia is an important trading partner of Germany's, but it only accounts for 3% of German exports. The ongoing political tension, however, has created an environment of uncertainty among German businesses, which is having wide-reaching economic repercussions.
"German business confidence is low and this is not being helped by geopolitical events such as those in Russia. While these concerns rumble on I would expect confidence to remain low," said Richard Troue, the Head of Investment Analysis at Hargreaves Lansdown.
Troue told us that this alone would not have a huge and lasting impact on exports, but there are other contributory factors which compound the issue.
Eurozone Crisis
The eurozone accounts for 50% of Germany's exports and demand remains as weak as it has been since the onset of the financial crisis. "France is a big market and there is no demand growth. Demand-wise, things are soft across the eurozone," Jennifer McKeown of Capital Economics said in a telephone interview.
And while a gradually strengthening euro will make goods made in Germany cheaper to purchase for buyers outside the region, it's likely that the real "rescue" has to come from within.
Germany is unlikely to consume its way out of the crisis, for while demand is low domestically, the prospect of fiscal stimulus on the home front is anathema to most of the electorate. And while it has been begrudgingly supportive of the measures the European Central Bank (ECB) has taken in recent weeks to start expanding its balance sheet, this is likely to be an important factor in the recovery of German exports.
The bank is embarking on an initiative to grow its balance sheet by €1tn over the next year in a move to stimulate inflation and demand, which would in turn be a boost to German exporters. But even these measures may not be enough.
"The US Federal Reserve and Bank of England both spent the equivalent of 25% of GDP on fiscal stimulus. For the eurozone, this would equate to around €2tn," said McKeown. This would require whole new forms of asset purchasing, with the ECB looking to corporate and, most likely, sovereign bonds too.
Germany is the most vocal opponent of the ECB buying sovereign bonds. Without changing its stance on this, it risks perpetuating low demand in its biggest market. Putin warned that western policy toward Russia may be hurting its exports. It could be that German policy is compounding the troubles of its Mittelstand companies on more than one front.