Singer Justin Bieber got emotional and started crying after finishing his performance on the VMA stage. He rendered his brand new single, What Do You Mean as well as Where Are Ü Now.
The performance was seriously emotional. He also showed off his dance moves, but just after his performance got over, Bieber bent over on his knees, started breathing hard and sobbed.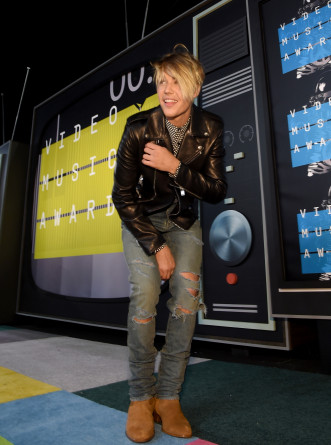 According to Access Hollywood Online, Justin said after his performance, "Life is a journey. Sometimes a battle, full of the unexpected. Sometimes we focus on the destination, and forget to focus on that journey."
The star of the night also added: "But when you fall, it allows you to get up stronger. It allows you to lean not on your own understanding."
He continued: "Give in to faith, and believe in something bigger than yourself. And find your purpose."
This was the first time the pop-star has performed at the ceremony in five years. He was dressed in black with a baseball cap on.
Bieber also impressed his fans and the audience with his high-energy performance. On the red carpet, the star wore a pair of shredded jeans with a black and white polka-dot shirt and a leather jacket.
He was seen in a new hairdo with long light brown fringes at the front and the rest of his hair pushed back. It was a noticeable cut that looked good on him. Bieber's performance primarily proves that he is back and better than ever.