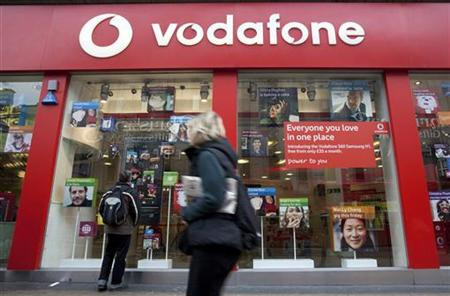 Vodafone have beaten analyst expectations today with a £11.9 billion profit.
The world's second largest telecoms provider however took hits across Europe where a 3.5 pct decline in revenue was seen.
This is due to ongoing economic weakness which Goldman Sachs say will affect forecasts by 1 or 2 pct through to 2012.
"As a result, we expect in-line FY11 guidance limiting the potential for earnings upgrade and/or a significant re-rating, so we remain Neutral on the stock." said Tim Boddy, analyst for Goldman Sachs International, giving the shares a target price of 169p.
BT, who also announced full year results recently are preferred at another broker, Collins Stewart who say that shares can reach 182p on 'good underlying fundamentals'.
Vodafone meanwhile took a hit on India where intense competition led to an impairment charge £2.3 billion.
The group however remain optimistic since starting entering into the market there in 2007:
"We have gained about 1 percentage point per annum in revenue market share, added 72 million customers, moved the business into operating free cash flow generation and launched Indus Towers, the world's largest tower company with more than 100,000 towers under management." said the results statement.
Chief Executive, Executive Vittorio Colao said: "In an extremely challenging economic environment, we have improved Vodafone's commercial focus and cost efficiency with visible results."
"We have made good progress in our growth areas - mobile data, broadband and enterprise - and exceeded our improved guidance, generating strong free cash flow of £7.2 billion. As a result of greater confidence in Vodafone's prospects and cash generation ability, the Board has adopted a revised dividend policy, delivering attractive growth for shareholders over the next three years."
"Economic growth remains fragile in many of our largest markets but we remain confident that our strategy is creating a stronger Vodafone."
Richard Hunter, Head of UK Equities at Hargreaves Lansdown Stockbrokers, commented: "Vodafone continues to position itself for an ongoing global assault which would assure further profit growth.
The current challenge relating to the Indian licence auction is proving costly, but the rewards would be high. Meanwhile, growth elsewhere in Asia Pacific and the Middle East was formidable, whilst the cost cutting initiative has been delivered ahead of plan. The fiercely competitive nature of the industry will continue to be monitored by investors, although the company's cash generative ability hitherto has not been in question.
The stock currently yields nearly 6% and Vodafone has stated that the dividend policy will remain progressive. Given the current interest rate environment, the stock will continue clearly to appeal to income investors whilst also providing some growth potential. The stock has slightly underperformed the wider FTSE100 index over the last year (a rise of 11% versus 18%) and the market consensus remains keen on prospects, with the company being a buy."