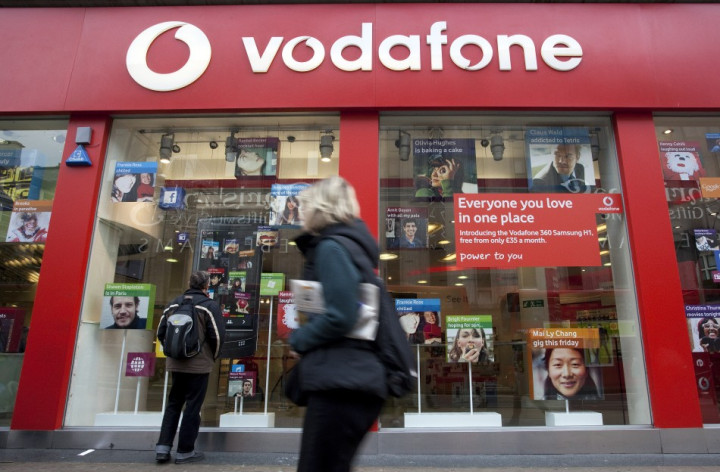 Vodafone shares surged to a 12-year high in early London trading after the British firm confirmed it was in talks to sell its entire stake in a US joint venture to American partner Verizon Communications.
The mega deal could be worth over $130bn (£84bn, €98bn), reported Bloomberg as it revealed the discussions. Vodafone's stock was trading 8.2% up on the day at 204.82 pence before midday on 29 august, valuing the company at almost £100bn.
"Vodafone notes the recent press speculation and confirms that it is in discussions with Verizon Communications Inc. regarding the possible disposal of Vodafone's U.S. group, whose principal asset is its 45% interest in Verizon Wireless," Vodafone said in a statement.
"There is no certainty that an agreement will be reached," it added.
The Wall Street Journal reported that the companies had resumed negotiations. However, it was not immediately clear whether they had settled on a price or whether Verizon had tabled a definite offer.
Verizon refused to comment on the Bloomberg and Wall Street Journal reports.
At present, Vodafone only receives a special dividend from Verizon for its stake in Verizon Wireless. The British telecom firm does not have control over the US joint venture, so unlocking the 45% stake could mean a major cash injection for the group.
Verizon is eager to acquire full control over the joint venture as Verizon Wireless's subscriber-base has been growing for three quarters in a row.
The firm added 941,000 new customers at the end of the second quarter, improving on the 720,000 additions it announced for the first three months of 2013. It garnered a record 2.1 million subscribers in the fourth quarter of 2012 and generates a significant earnings margin of more than 41%.
In April, Vodafone's shares soared to a five year high in early London trading following speculation that Verizon Communications was sealing a deal to take over the companies' wireless partnership in the US and would sell assets to AT&T.
According to a report in the Financial Times' Alphaville blog, Verizon was looking to offer about a 40% premium to the company's share price, or about 260 pence per share, for Vodafone's stake in Verizon Wireless.
There has been speculation that Vodafone would one day be the subject of a takeover by Verizon Communications, which the latter shot down in April, saying "it would be a willing purchaser of the 45% stake that Vodafone holds in Verizon Wireless."
In December 2012, media reports said that Vodafone and Verizon discussed a full merger of the two companies, but negotiations broke down over disagreements on the combined company's leadership and headquarters location, which eventually led to the buyout or partial sale of Vodafone's stake in the Verizon Wireless as a more likely outcome.