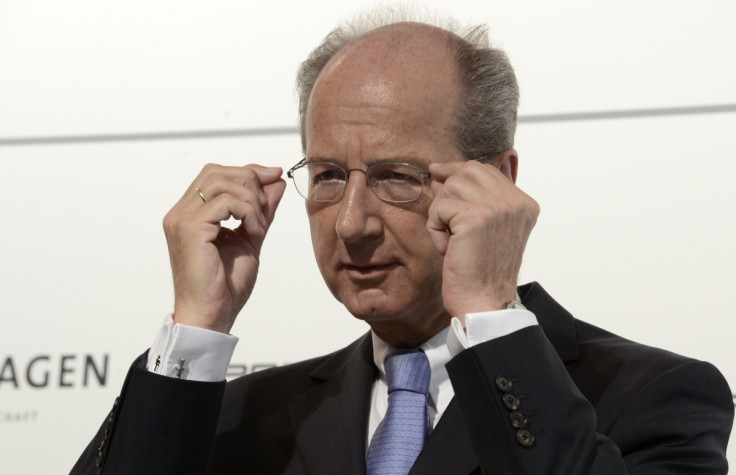 German prosecutors have opened an investigation into the chairman of Volkswagen's supervisory board, Hans Dieter Poetsch, over his role in the carmaker's diesel emissions scandal.
Poetsch, who was VW chief financial officer when the scandal broke in September 2015, is the latest to be accused of suspected market manipulation after former VW chief executive Martin Winterkorn and the current head of the VW passenger cars brand, Herbert Diess.
The prosecutor's office in Braunschweig, near VW's headquarters in Wolfsburg, began a probe into Winterkorn and Diess in June over allegations they neglected to disclose the financial implications of the company's emissions cheating in a timely manner to investors.
In a statement released on 6 November, VW said its own investigation had not revealed any negligence of duty by management.
"Based on careful examination by internal and external legal experts, the company reaffirms its belief that the Volkswagen board of management duly fulfilled its disclosure obligation under German capital markets law," the carmaker said.
"The company and Hans Dieter Poetsch will continue to give the inquiries by the public prosecutor's office their full support."
Poetsch took over as chairman of VW in October last year.
New suspect software
VW admitted last year that it had falsified emissions data in 11 million of its diesel vehicles worldwide. It has been grappling with falling global sales ever since.
The firm has agreed to pay $14.7bn (£11.8bn) to settle damage claims with US authorities and car-owners affected by the scandal.
The Wall Street Journal reported on 6 November that regulators in California had recently discovered software installed on some of VW's Audi models that enabled them to mask their carbon dioxide emissions.
Sources close to the California Air Resources Board told the paper that the new defeat device had been discovered during laboratory tests four months ago, but that the discovery had not been publicly disclosed by VW or US regulators.