VW emissions scandal: CEO Michael Horn says 'we will pay for total screw up'
UPDATE: Volkswagen has released a statement which says 11 million vehicles worldwide use the code central to the EPA's findings. VW has set aside €6.5bn to deal with the issue.
---
The boss of Volkswagen Group of America admits his company has "totally screwed up" over the vehicle emissions scandal, which will see the car maker investigated for deliberately cheating to pass US emissions tests. VW's US chief executive was speaking at the New York launch of the new Passat, set to replace a car accused of cheating.
The apology comes amid claims that UK and European vehicles from VW and other brands could be caught up in the scandal, which has rocked the motoring industry and could see VW fined $18bn (£11.6bn) for programming cars to deliberately cheat their way through emissions tests. When driven normally and away from a test environment, the US Environmental Protection Agency (EPA) claims a number of VW and Audi cars produce up to 40 times as much nitrogen oxide as is allowed by law for diesel engines.
Speaking at the Passat launch, Michael Horn, CEO and president of the Volkswagen Group of America, said: "Our company was dishonest. We have totally screwed up. We must fix the cars to prevent this from ever happening again and we have to make this right. This kind of behaviour is totally inconsistent with our qualities. We are committed to do what must be done and to begin to restore your trust. We will pay what we have to pay."
Breaking consumer trust
Horn's apology comes a day after VW Group boss Martin Winterkorn said his company was guilty of "breaking the trust of our customers and the public." The issue affects 482,000 vehicles sold between 2009 and 2015, and covers models from the VW Jetta, Beetle and Gold lines, as well as the Passat and the Audi A3. Europe's largest car maker, VW also owns Seat, Skoda, Audi, Bentley, Bugatti, Lamborghini, Porsche and Ducati, plus commercial vehicles by VW, Scania and Man, although it isn't yet known if these brands are also embroiled in the emissions scandal. All vehicles affected have been taken off sale.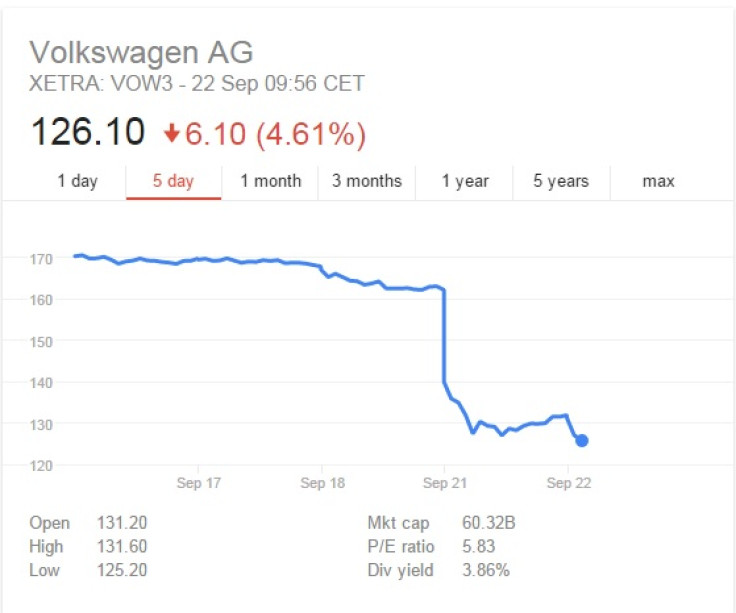 Volkswagen's share price has fallen some 20% since news of emissions test fixing broke
Google
VW's share price tumbled over 20% in light of the news, falling to €126 (£90) and to its lowest level since June 2012. It was continuing to fall at the time of publication.
How did VW cheat?
A document issued to VW by the EPA on 18 September reads: "VW manufactured and installed software in the electronic control module (ECM) of these vehicles that sensed when the vehicle was being tested for compliance with EPA emissions standards." The software knew when a car was being tested on a rolling road and used other measurements, such as steering input, to tell the difference between being tested and driven normally.
The EPA went on: "During emission testing, the vehicles' ECM ran software which produced compliant emission results under an ECM calibration that VW referred to as the 'dyno calibration'. At all other times during normal vehicle operating, the 'switch' was activated and the vehicle ECM software ran a separate 'road calibration' which reduced the effectiveness of the emission control system."
As a result, the EPA claims, "emissions of NOx increased by a factor of 10 to 40 times above the EPA compliant levels, depending on the type of drive cycle (eg, city, highway)."
The tip of the iceberg
Meanwhile, a UK emissions testing company told IBTimes UK that it had been suspicious about VW in the US for some time, and that the industry as a whole believes other car makers could also be cheating emissions tests. The Transport & Environment group believes UK and European vehicles could also be affected. "There is strong evidence that similar illegal devices are also used in Europe by both VW and other manufacturers," the group said.
Greg Archer, T&E's clean vehicles manager, told the Telegraph: "The Volkswagen example is clearly just the tip of the iceberg and there will be a lot more companies dragged into this. Exactly the same technology is used in Europe as it is the US, and tens of millions of cars have been sold since 2009. That means that there are potentially millions of cars that are being driven illegally. Obviously it is not the drivers' fault, but it is likely we will see huge numbers of recalls."
UPDATE: Volkswagen statement, released 22 September:
Volkswagen is working at full speed to clarify irregularities concerning a particular software used in diesel engines. New vehicles from the Volkswagen Group with EU 6 diesel engines currently available in the European Union comply with legal requirements and environmental standards. The software in question does not affect handling, consumption or emissions. This gives clarity to customers and dealers.
Further internal investigations conducted to date have established that the relevant engine management software is also installed in other Volkswagen Group vehicles with diesel engines. For the majority of these engines the software does not have any effect.
Discrepancies relate to vehicles with Type EA 189 engines, involving some eleven million vehicles worldwide. A noticeable deviation between bench test results and actual road use was established solely for this type of engine. Volkswagen is working intensely to eliminate these deviations through technical measures. The company is therefore in contact with the relevant authorities and the German Federal Motor Transport Authority (KBA – Kraftfahrtbundesamt).
To cover the necessary service measures and other efforts to win back the trust of our customers, Volkswagen plans to set aside a provision of some 6.5 billion EUR recognized in the profit and loss statement in the third quarter of the current fiscal year. Due to the ongoing investigations the amounts estimated may be subject to revaluation.
Earnings targets for the Group for 2015 will be adjusted accordingly.
Volkswagen does not tolerate any kind of violation of laws whatsoever. It is and remains the top priority of the Board of Management to win back lost trust and to avert damage to our customers. The Group will inform the public on the further progress of the investigations constantly and transparently.
© Copyright IBTimes 2023. All rights reserved.