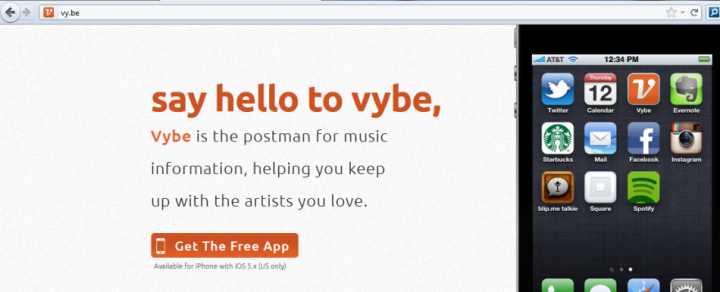 Within three days of its official release in the iTunes App Store, the application called Vybe impressed Apple enough to score a spot on the "New and Noteworthy" section of iTunes. Besides, the application outran 11,556 other free music apps to secure the 23rd rank, amassing 10,000 registered users within its first week; and it's still climbing fast.
Vybe's growing popularity rests in its unique ability to keep users connected to the music they love. It is, basically, a user's one-stop-shop for new albums, singles, videos and concert details, besides listing comprehensive artist profiles, courtesy real-time updates from across the Internet.
Designed to be a "better platform for artists to connect with their fans and fans with the music they love," Vybe provides a mobile space for users to effortlessly be in touch.
On first install, Vybe automatically scans the music library on the user's device, following all of their artists/bands. Then, anytime any of those artists release new content (albums, singles, concert details or videos), the program alerts the user through a push notification that leads into the app.
Once inside, the user can not only preview the music of the artist concerned but, in case of concerts, even see venues, dates, times and even connect to ticket sales for that event. Users can also share content discovered to Facebook and Twitter, amplifying the viral reach of the content for the artist.
Users can customize the types of notifications they receive and set how far they are willing to travel for a concert, ultimately giving users a personalized experience and keeping Vybe always relevant.
Finally, Vybe allows fans access to all of the relevant information about their favorite music/musicians, at their fingertips.
Download Vybe at www.vy.be/getit. For more information about Vybe, Inc. visit www.vy.be or blog.vy.be.
Must Read: iPad 3: Top 10 Most-Anticipated Features