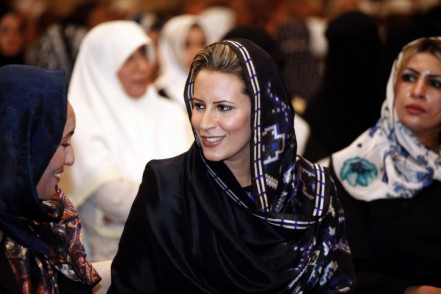 The daughter of former Libyan dictator Mummar Gaddafi Aisha is seeking political asylum in Israel, according to a report on the Intelligence Online website.
Aisha, 35, is currently living in exile in Algeria, with her mother and a number of brothers. But she fears that local officials will meet demands from the new Libyan government to extradite her.
According to reports, she told friends from Europe that the only country she could feel safe is Israel. Aisha recently hired a previous prosecutor with the Israeli Ministry of Justice Nick Kaufman, to advance a probe into the killing of their father with the ICC, the International Criminal Court.
Two years ago, Mummar's son Saif al-Islam reportedly sought a deal with Israel through a mediator for a non-violent compromise concerning an aid ship he sent toward Gaza.
Gaddafi family may even have an Israeli family link. Two Israeli women of Libyan origin, Rachel Saada and Guita Brown, claimed in 2009 to be related to Muammar Gaddafi. Guita's grandmother was the sister of Gaddafi's grandmother. That makes Gaddafi technically Jewish.
Aisha may then qualify for the automatic right to immigrate in the Jewish state, the Los Angeles Times reports.
"Judaism is acquired through matrilineal heritage (or conversion), but it's often sufficient for immigration under Israel's Law of Return legislation," the article reads.