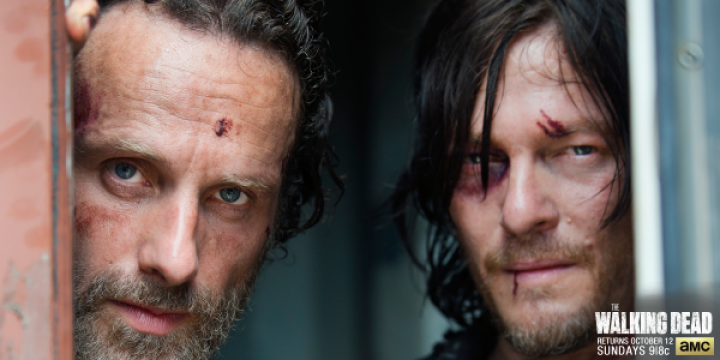 Ever since the release of the trailer of The Walking Dead Season 5, fans are keen to know about the fate of Rick Grimes and Co, who appear to have escaped from the Terminus.
Rumours were abuzz about major character deaths and Daryl's romance with Beth and Carol, but show producer Gale Ann Hurd has a thing or two to say about the rumours.
In an interview with Zap2it, Hurd revealed the secrets about the Terminus, Daryl and Beth's romance and the setting for Season 5 of AMC's zombie apocalypse series.
"Daryl's interesting because there are the people who want him to hook up with Carol, there are the people who want him to hook up with Beth, there are the people who never wanted him to hook up because he's got to save himself for them," Hurd told the website.
"Regardless of what we do, I don't think we're ever going to make anyone happy."
Hurd also teased about major deaths in the upcoming series and said "It wouldn't be 'The Walking Dead' without some tears. And no, I'm not going to say".
Greg Nicotero, the man behind the special effects of the AMC hit series hinted about the show's setting for Season 5.
"We never really started [a season] with a direct cut [from the previous season]. Season 2 to Season 3, there was an eight-month jump, and Season 3 to Season 4, there was an eight-month jump. But since we ended the Season 4 finale on Rick's line — 'They're screwing with the wrong people'— we left on a cliffhanger, and we're going to pick up directly where we left off," Nicotero told Yahoo TV.
"The theme to Season 4 was, 'Can we come back from the things that we've done?' And that's where Rick starts at the beginning of Season 4, and he has that conversation with Clara, and he goes all the way through, and you find him embracing that brutality in order for him and Carl and Daryl and Michonne to survive," he added.
Nicotero also hinted that Rick Grimes will fight against all odds this season to protect the people he loves.
The Walking Dead Season 5 will be broadly based on 'survival' and will premiere on AMC on October 12.